Watch Last Call with Carson Daly Online - Full Episodes
Series Length:
10 Seasons,

975

Episodes
Schedule:
Weekdays 1:35 AM et/pt on NBC
Description:
Last Call With Carson Daly is an NBC late-night show that premiered on the network in 2002. It has aired weeknights at 1:35 a.m Eastern/12:35 a.m. Central since its debut. Originally, the show followed the format of a traditional late night talk show with interviews, an opening monologue, a music guest, and comedy bits. Daly, often criticized by viewers for not being as funny as other late night TV personalities, never seemed very comfortable with this format.
The show, which had always struggled with ratings, and has often been on the verge of network cancellation, gained more viewers after some tweaks to its format. The new format plays more like a documentary than a typical late night TV show. Host Carson Daly is often on location at a celebrity or musician's home, on the road, or at a band's live show. Abandoned were fixtures seen on other other late night talk shows like a studio audience, a comedic monologue, skits or music from a house band.
Carson's more prominent role in NBC's prime time lineup, along with episodes of Last Call With Carson Daly being repeated weeknights in prime time hours on Fuse, has resulted in the series having its best numbers in years. Daly, a music aficionado, also makes an effort to feature up-and-coming unsigned bands or emerging indie artists that are somewhat under the mainstream radar. Daly has devoted an entire week's worth of programming to spotlight a particular genre of music, up-and-coming women of rock, and a "California" tour where episodes were broadcast from renowned and legendary clubs like The Viper Room, The Roxy, and the Hotel Cafe.
Beginning in September of 2011, Last Call With Carson Daly became the last NBC program, as well as the last late night talk show, to be converted to a high definition broadcast.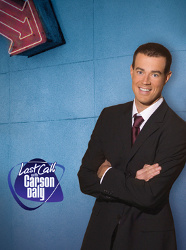 Last Call with Carson Daly Video Clips & Extras
View More Clips & Extras

Last Call with Carson Daly News
Apparently "American Idol" isn't democratic enough, what with their auditions in select parts of the country and such. NBC is hoping to one-up the competition by drawing contestants...from their couches? "The Voice," set to air this spring, gives potential contestants the chance to audition right from their living room. All you need is a microphone and a webcam, common components to any laptop these days.