Watch One Big Happy Family
A reality television show that follows the lives of a North Carolina family and their quest to lose weight together for health reasons. Tameka and Norris Cole and their two teenage children Amber and Shayne each weigh over 300 pounds. When fourteen year old Shayne is told he is at risk of developing Type II diabetes he and sister decide to lose weight, and after a trip to their doctors their parents are on board as well. Now the family has to figure out how to change their lifestyles before its too late.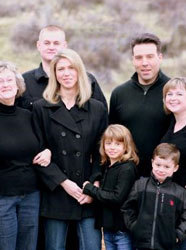 One Big Happy Family

Full Episode Guide
Episode 9 - Amber and Shayne's Dinner Disaster

Episode 8 - Norris Knows Best?

Episode 7 - Crab Cakes in the Capital

Episode 6 - The Coles Go to Washington

Episode 5 - Getting on the Right Path

Episode 4 - Babies and Big Rigs

Episode 3 - Amber and Tameka's Dance Class

Episode 2 - Frills and Bills

Episode 1 - Amber's First Love
Episode 6 - Family Portrait

Episode 4 - I Love You All Over Again

Episode 2 - We Must Change

Episode 1 - Troubling News
If You Like One Big Happy Family, Then Try...