Watch One Big Happy Family
This six-part series profiles the Coles, a close-knit family of four dealing with life as a morbidly obese household. Weighing in at a collective 1,400 pounds, each half-hour episode follows the family on their journey of self-improvementchronicling everything from their everyday struggles to the larger picture of why they overeatas they attempt to lose weight to ultimately save their family from dire health complications.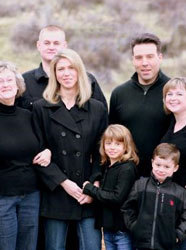 One Big Happy Family

Full Episode Guide
Episode 9 - Amber and Shayne's Dinner Disaster

Episode 8 - Norris Knows Best?

Episode 7 - Crab Cakes in the Capital

Episode 6 - The Coles Go to Washington

Episode 5 - Getting on the Right Path

Episode 4 - Babies and Big Rigs

Episode 3 - Amber and Tameka's Dance Class

Episode 2 - Frills and Bills

Episode 1 - Amber's First Love
Episode 6 - Family Portrait

Episode 4 - I Love You All Over Again

Episode 2 - We Must Change

Episode 1 - Troubling News
If You Like One Big Happy Family, Then Try...