Animal Crackers
A number of wild animals live in close proximity to one another on the Freedom Wildlife Preserve in Africa. These animals have a lot of unique quirks and often interact with each other. They include Lyle, a philosophical lion who is a bit of a sissy; his best friend, Dodo, the last dodo alive on the planet; the arrogant elephant Eugene, who is always desperate for attention; Gnu, the inept leader of his herd who is a doting father; and Lana, a lion who Lyle loves. Other creatures are also involved in the lives of those in this small group.
3 Seasons,

78

Episodes

September 7, 1997

/

10

Cast:

Mark Camacho, Tedd Dillon, Terrence Scammell, Mark Montgomery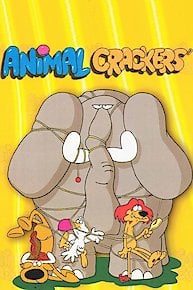 Animal Crackers Full Episode Guide
Our gang, ever-ready to believe anything, gets caught up trying to debunk a ridiculous succession of urban myths.

Lyle finds what he believes to be a treasure map, and the gang combines all their natural tracking instincts to find it.

Episode

14

-

Boyz Night Out

Little Louie decides to go out on an adventure all by himself, provoking Lyle and the others to form a hapless search party.

Episode

13

-

Brand New Gnu

Gnu falls out of a tree, and forgetting who he is, accidently assumes the identity of his son's favourite comic character.

Episode

12

-

Fountain of Youth

The gang believes one of their ponds has magically transformed into a fountain of youth.

Freeborn is haunted! What starts out as a playful sting on Lyle ends up scaring everybody.

Episode

10

-

Animal Court

When no one will admit to theft, it's decided by Lana that the mystery can only be solved in a Freeborn courtroom.

Lyle falls asleep reading Robin Hood, and dreams the romantic tale starring himself and Lana.

Episode

8

-

Fame, Fortune, Madness

J.P. Weasel makes a return visit to Freeborn, and everyone is understandably suspicious of the charlatan. Still, in no time at all, our gang falls for his promises of fame and fortune, hook, line and sinker.

Episode

7

-

Message in a Bottle

When Lana responds emotionally to a message in a bottle, a jealous Lyle tries his own hand at romantic poetry.

Episode

6

-

Eu've Got Mail

Eugene refuses to respond to a chain letter, setting off a string of comical consequences.

When Gnu accidently empties a wishing well of all its coins, he takes it onto himself to see to it that everyone's wishes still come true.

Episode

4

-

Love is Blind

A very lonely Dodo mistakes a plastic dodo as the real thing, and falls in love.

Episode

3

-

Volcano Madness

The rumbling of a nearby volcano provokes the gang to come up with Freeborn-saving solutions, each more ridiculous than the last.

When a meteor crashes into Lyle's cave, everyone goes looking for aliens. Soon, EVERYONE looks suspicious.

Episode

1

-

Stop in the Name of Lana

Lana replaces Eugene as the Freeborn Sheriff, and surprises everyone with her power-mad enthusiasm for the job.
Episode

36

-

Freeborn Online

Dodo discovers that ANYTHING can be bought online, provoking a Freeborn-wide buying spree. Then, the bill arrives.

The gang believes unless they clean up their act, and Freeborn, they'll be sent packing by the Park Ranger.

Episode

34

-

Prime Time Crime

Dodo is everybody's best friend when they discover he has illegal cable. That is, until the cable police start asking questions, and the gang disappears.

Episode

33

-

Rumour of Her Own

Lana decides to prove how gullible everyone is by starting a ridiculous rumour. Problem is, everything she makes up keeps coming true!

Episode

32

-

Time Flies but Dodo Doesn't

Dodo bangs his noggin' and travels back to prehistoric times when dodo birds were a dime a dozen.

Episode

31

-

Dial-A-Phobia

A local radio shock-jock convinces the Freeborn community that EVERYBODY has a phobia!

Episode

30

-

Citizen Eugene

Eugene decides to publish a quality Freeborn newspaper which quickly deteriorates into a tabloid.

Eugene is struck by lightning, provoking two startling changes; One, he's getting smarter in leaps and bounds. And two, he's become the largest magnet in the world!

Episode

28

-

Paris, Freeborn

Lyle, just back from a trip to France, tries to instill some Parisian manners on his less than enthusiastic Freeborn friends.

Episode

27

-

Look Who's Not Talking

Lyle gets to play Uncle to his little nephew Louie, with all the expected, and disastrous results.

Episode

26

-

That's What Friends are For

Lyle and Dodo's friendship is tested when a piece of clothing proves more popular than the both of them.

Episode

25

-

The Looney Bin

A bird arrives believing he's Dodo's cousin. Much to Dodo's dismay, everyone falls for the loony imposter.

Episode

24

-

Lights! Camera! Gnu!

When a film director, famed for turning nobodies into big name stars, arrives in Freeborn for some R&R, Gnu sees it as an opportunity to find a new career path. Unfortunately, Gnu is lacking in that one quality the director desperately needs -- talent.

When Eugene becomes a devout follower of his daily horoscope, all of Freeborn pays the price.

Episode

22

-

Freeborn for Rent

J.P. Weasel manages to turn Freeborn into a tourist trap with Eugene the Mad Elephant as its main attraction.

Episode

21

-

Beauty and Eugene

The biggest star in the world is an elephant named Ella, and when her show makes a pit stop in Freeborn, Eugene does everything he can to capture her heart.

Episode

20

-

Gnus in Canoes

When Gnu sets off on a father/son adventure with Jr., the last thing he expects is to be joined by Lyle and Dodo.

Dodo misunderstands a news report and sets all of Freeborn competing to prove their 'worth' to the community before being turfed out.

Episode

18

-

Trio in Love

A female chameleon moves to Freeborn, and Tito is smitten. With the help of his friends, his chances of capturing her tiny heart becomes next to none.

Episode

17

-

Birthday Palooza

No one throws a surprise birthday party like Lyle, except it's HIS birthday. He's got to get the idea into someone else's head before it's too late.

The past comes back to haunt Lana when a Trust Councillor she hires turns out to be someone she slighted in school.

Episode

15

-

Lana Tuner Overdrive

Lana's had it with Lyle's constant pestering for a date, but when her efforts to chase him off works, she misses him.

Episode

14

-

The Last Dodo Egg

When Dodo believes he's laid the last Dodo egg, he treats it with all the reverence the event implies. Eugene just wants to eat it.

Episode

13

-

The Cold Scholder

Lyle returns from meditating with Tibetan monks and tries to force his quacky ideas on a flu-ridden Freeborn. Thanks to Lyle's tireless efforts, everyone gets worse.

Episode

12

-

Call of the Wild

Dodo, upset with how domesticated the Freeborn animals have become, arranges a return-to-nature expedition -- portable TV and all.

Much to their horror, our gang of regulars is invited to a Class Reunion.

Episode

10

-

A Wing and a Prayer

When Dodo tries to take advantage of a money-back guarantee, he accidently attracts the Godfather of vultures to the Preserve.

Episode

9

-

Lyle in the Fast Lane

Lana shows appreciation for hard-partying monkeys, provoking a misguided Lyle to steal a jeep and take the gang for a joyride.

Episode

8

-

The Butler Did It

After the gang convinces Eugene that Dodo saved his life, the pachyderm reluctantly agrees to become his butler. When Eugene finds out the truth, everyone pays.

A firefly caught in the lens of Lyle's telescope has all of Freeborn believing in flying saucers.

Episode

6

-

How To Be a Millionare

When news spreads about Lyle's inheritance, the lion becomes very popular as everybody starts manoeuvring for a piece of the riches.

Everyone ignores Lyle's warnings of an impending monsoon, and the good-hearted lion ends up building an ark with room enough for everyone - but him.

Episode

4

-

My Brother's Keeper

Lyle takes over the responsibilities at a Ranger's Station when Dodo's misreading of a holiday brochure leads them to an abandoned park.

Episode

3

-

Eight Hooves Out

Dodo gets his friends in way over their heads when he accepts a challenge to a baseball game from the All-Star monkeys. Especially when Eugene, the Babe Ruth of Freeborn, would rather do anything else.

Episode

2

-

Classified Casanova

Gnu uses the classifieds to find a true love match. Things don't work out the way he'd hoped when Eugene turns out to be his surprise date.

Eugene can't sleep, and decides no one else can. What he calls a sleepover is really an invitation to entertain him all night.