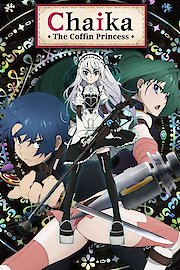 Watch Chaika the Coffin Princess
TV-14
2014
1 Season
Chaika - The Coffin Princess is a 12-episode anime series that premiered in Japan in April 2014. The series is based on a light novel series of the same name, written by Ichiro Sakaki and illustrated by Namaniku ATK. The anime adaptation was produced by Bones and directed by Soichi Masui.
The show is set in a fantasy world where the continent of Verbist is divided into six nations that have been at war for centuries. The story follows a young sorceress named Chaika Trabant, who carries a coffin on her back containing the remains of her father. Chaika hires a group of traveling companions to help her collect the scattered remains of her father in order to give him a proper burial.
The main character, Chaika Trabant, is voiced by Kira Vincent-Davis in the English dub. Chaika is a young sorceress who comes from a powerful family of sorcerers known as the Gaz Empire. However, she has lost her memories and does not know who she is or what her past is. She speaks in a strange language and has a charming personality that often leads her into trouble. Despite her lack of memories, Chaika is determined to find her father's remains and give him a proper burial.
Leraldo Anzaldua voices the character of Toru Acura in the English dub. Toru is a former soldier who has lost his purpose in life after the end of the war. He is a skilled fighter and works as a saboteur to make ends meet. Toru is initially hired by Chaika to help her find her father's remains, but he later develops a strong sense of loyalty to her and becomes one of her closest allies.
Joanne Bonasso voices the character of Akari Acura in the English dub. Akari is Toru's adopted sister and also a former soldier. She is highly skilled in hand-to-hand combat and is often the one who keeps Toru in check when he becomes too reckless. Akari is fiercely protective of her brother and will do anything to keep him safe.
Chaika's journey to find her father's remains takes her and her companions across the war-torn continent of Verbist. Along the way, they face off against dangerous magical creatures, corrupt government officials, and other sorcerers who are also searching for the remains of the Gaz Empire's former ruler. As they get closer to their goal, they begin to uncover secrets about Chaika's past and the true nature of the war that has been raging for so long.
The anime is highly regarded for its unique character design, beautiful animation, and intriguing storyline. The show blends elements of adventure, action, and fantasy with a touch of romance and comedy. It explores themes of identity, loyalty, and the true cost of war. The show also features an impressive cast of characters, each with their own unique backstory and motivations.
In conclusion, Chaika - The Coffin Princess is an exciting and engaging anime series that will keep viewers invested from start to finish. The show's blend of action, adventure, and fantasy make it a must-watch for fans of those genres. The characters are well-written and developed, and the storyline keeps the audience guessing until the very end. Whether you're a longtime anime fan or new to the genre, Chaika - The Coffin Princess is definitely worth adding to your watch list.
Chaika the Coffin Princess is a series that is currently running and has 1 seasons (12 episodes). The series first aired on April 9, 2014.