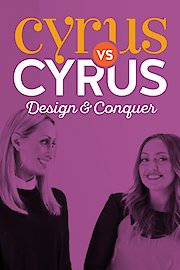 Watch Cyrus vs. Cyrus: Design and Conquer
As a celebrity-fueled spinoff of HGTV's popular "Property Brothers" TV series, Bravo's "Cyrus vs. Cyrus: Design and Conquer" is a home makeover show that follows the mother-daughter duo of Tish Cyrus and Brandi Cyrus as they team up to tackle interior decorating challenges for homeowners in Nashville, Tennessee. This show first premiered on May 25, 2017.
Recently, Tish and Brandi Cyrus have opened up their interior design firm, and this show documents their work on real-life renovation projects for local Nashville residents. Unlike other home renovation shows that rely solely on the designers' expertise, "Cyrus vs. Cyrus" lets the viewers see how the mother-daughter duo collaborate and foster their individual strengths to bring a fresh perspective for each client they work with.
Throughout the show, the designers work to transform everything from generic apartment spaces and dated kitchens to bland, neglected living areas and outdoor patios. Together, Tish and Brandi meet with their clients, assess their needs, sketch out designs, order materials, and ultimately bring the renovations to life.
One of the exciting aspects of the show is that each episode features a different team of clients, so viewers get to see the Cyrus team tackle various styles, taste preferences, and even budgets. Some of these clients have a clear vision for what they want, while others seem directionless and leave everything up to the Cyrus duo to come up with innovative solutions that cater to the clients' needs.
Cyrus vs. Cyrus is not just entertaining for its home renovation segments. What makes this show stand out is the couple's close-knit bond and amusing sense of humor that shines in the series. The Cyrus' witty, charming banter feels authentic and shows that their mother-daughter dynamic is what keeps them going. The show has even handled some of the topics that face young adults and the older generation - which gives it a feel-good vibe and makes the whole experience enjoyable.
Additionally, the show provides plenty of fun twists that keep viewers guessing. One of the most significant plot devices is "The Design Challenge," which sends the Cyrus team head-to-head to come up with a design plan for specific rooms in the home. This segment allows the girls to showcase their creativity and individual viewpoints and insights, weaving them together to come up with optimal design solutions.
Another notable aspect of the show is the appearance of special guests who add flavor and variety to the scenes. Famous people like Oprah Winfrey, Kelly Clarkson, and others have made guest appearances to flavor up the show. These guests help Tish and Brandi out with their renovation challenges and offer some fantastic critiques that add an interesting atmosphere to the show.
In summary, the "Cyrus vs. Cyrus" series is both charming and engaging, depicting an everyday mother-daughter duo finding common ground while taking on wild design challenges. The clan's unique down-to-earth personalities, mixed with their great work, makes the show worth the watch. Fans of home renovation programs and Miley Cyrus may find this a highly enjoyable addition to their streaming queue.
Cyrus vs. Cyrus: Design and Conquer is a series that is currently running and has 1 seasons (6 episodes). The series first aired on May 25, 2017.