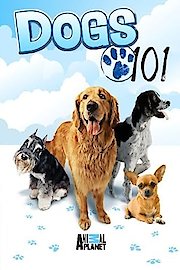 Watch Dogs 101
Dogs 101 is a television documentary series that aired on Animal Planet from 2008 to 2021. The show, hosted by Kevin Draine, Karen Halligan, and Andrea Arden, focuses on different dog breeds and provides viewers with valuable information on their characteristics, temperament, and history.
Each episode of Dogs 101 features a specific breed, beginning with an introduction to the dog's history and origin. The hosts take the viewers through the breed's evolution, discussing the breed's original purpose and how it has changed over time. The show provides viewers with fascinating insights into each breed's heritage, including their character traits and physical characteristics.
Throughout the show, the hosts provide a wealth of knowledge on dog behavior, training, and care. They discuss the traits and quirks that make each breed unique, and provide tips on how to care for and train each dog. Viewers learn the importance of socializing their dogs and the benefits of obedience training.
Dogs 101 also explores the different lifestyles that suit each breed. For example, the show recommends breeds that are suited to apartment living, those that need a lot of exercise, and breeds that are great with children. It also provides advice on how to choose the right dog for a family's specific needs.
Moreover, Dogs 101 features interviews with dog trainers, breeders, and owners, who share their experiences with each breed. Viewers hear firsthand accounts of the joys and challenges of owning each breed, and the hosts address common misconceptions about particular breeds.
In addition, Dogs 101 showcases the delightful personalities of each breed. The show features footage of dogs playing, cuddling, and interacting with their owners, and the hosts discuss the different ways each breed expresses their personality.
The production values of Dogs 101 are also noteworthy. The show presents stunning visual footage of each breed, including slow-motion shots of dogs running, jumping, and playing. The show's graphics and animation are exceptional, providing viewers with detailed diagrams of each breed's anatomy, including their unique skeletal structure and physical features.
Overall, Dogs 101 is a must-watch for any dog lover. The show showcases the incredible diversity of dog breeds and provides invaluable information on each breed's history, characteristics, and care. It is an entertaining and educational series that will appeal to anyone who loves these wonderful creatures.
Dogs 101 is a series that is currently running and has 4 seasons (39 episodes). The series first aired on October 11, 2008.