Extreme Male Beauty
"Extreme Male Beauty" is a British documentary TV series featuring presenter Tim Shaw. The series explores the extent of the methods that males have employed in an effort to become more attractive. The series takes a critical eye to the ideals of male beauty presented by society.
Episode 1 examines the male physique. The episode features a segment wherein Shaw and four other dressed down males are openly critiqued by a panel of women. Tim Shaw decides to leave his unhealthy lifestyle behind him and embarks on an intensive 8 week diet and exercise program.
Episode 2 discusses the pursuit of a larger penis. He investigates various devices and practices that allege to increase size including the practice known as jelquing. Similar to the first episode Shaw and four other men put their penises through a hole, and a female panel evaluates them discussing what they like and dislike.
In episode 3 Tim Shaw investigates the desirable six-pack. Shaw first looks into a procedure called abdominal liposculpture. The procedure involves directly sucking fat from the abdominal region. He tries out an electro stimulator as well to see the results. This episode also contains an update on the final stages of "Men's Health" magazine's search for a cover model.
In episode 4 Tim is nearing the end of his 8 week program. Before unveiling his new transformed body to his wife we see him undergo a thorough waxing. Additionally, the host meets a biker attempting to fix the damage done to his looks through steroids with plastic surgery.
"Extreme Male Beauty" originally aired in 2009. It runs 44 minutes and fits into a one hour time slot. It is produced by Cheetah Productions and distributed by Channel 4 UK.
Thursdays 10:00 pm et/pt on Channel 4

1 Season,

4

Episodes

May 7, 2009

/

10

Cast:

Sarah Pemberton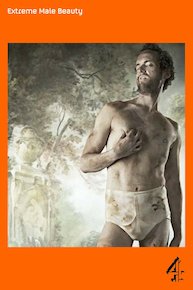 Extreme Male Beauty Full Episode Guide
Episode

4

-

Extreme Male Beauty

Tim Shaw has reached the final stages of his transformation - and now he's spending two weeks working on his face. He tries out anything that will help tone it up, including the ancient…

Episode

3

-

Extreme Male Beauty

Tim Shaw continues his battle with the bulge as he attempts to transform himself from Mr Blobby to Mr Buff in just eight weeks. Having spent two weeks attempting to increase the size of…

Episode

2

-

Extreme Male Beauty

Having spent two weeks trying to increase the size of his pecs, Tim turns to a more personal project - getting a bigger penis.

Episode

1

-

Extreme Male Beauty

Tim begins his quest to transform himself from superslob to superman in just eight weeks. The 35-year-old journalist, husband and father of two is 6 foot 5 and weighs 14 stone 7 pounds…
If You Like Extreme Male Beauty, Then Try...