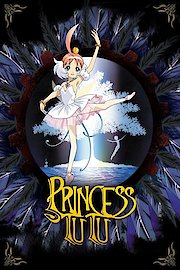 Watch Princess Tutu
TV-14
2005
1 Season
Princess Tutu is a captivating anime series that revolves around the story of a young duck named Ahiru (voiced by Akiko Hiramatsu), who transforms into a beautiful human ballerina named Princess Tutu (voiced by Nana Mizuki) to help her prince, Mytho (voiced by Takahiro Sakurai), regain his lost heart.
The show is set in a magical world where fairy tales come to life, and Ahiru finds herself caught up in the ongoing story of the prince, who has had his heart shattered into pieces and scattered throughout the land. As Princess Tutu, Ahiru sets out to find each piece of Mytho's heart, battling against the ruthless Raven (voiced by Naoki Yanagi) and his minions who wish to prevent the prince from ever regaining his heart.
Throughout the series, Ahiru (and Princess Tutu) forms unique connections with the other characters, including Rue (voiced by Erino Hazuki), a fellow ballerina who is also in love with Mytho; Edel (voiced by Kyoko Kishida), a wise storyteller who knows more about the legend of the prince than she lets on; and the enigmatic Drosselmeyer (voiced by Noboru Mitani), the magical writer responsible for creating the story in which everyone is a part of.
As the story unfolds, Ahiru learns more about the true nature of her existence, her connection to Mytho and the prince's past, and the underlying darkness that threatens to consume the entire world. The show is filled with complex themes, including identity, self-discovery, sacrifice, and the power of storytelling, and manages to weave together dark and light elements into a cohesive and engaging narrative.
The animation and soundtrack for Princess Tutu are stunning, with beautifully choreographed dance scenes, intricate character designs, and hauntingly beautiful music that adds to the overall atmosphere of the show. The voice acting is also superb, with each actor bringing depth and emotion to their respective characters.
Despite its magical and fairy tale setting, Princess Tutu is not a show solely for children. The series tackles some heavy themes and is often emotionally poignant, with several moments that will likely leave viewers teary-eyed. However, the show does balance its darker elements with moments of humor and lightness, making it a well-rounded and enjoyable viewing experience overall.
Overall, Princess Tutu is an extraordinary anime series that manages to tell a captivating story while exploring complex themes and emotions. The show has garnered a dedicated following over the years, and it's easy to see why. It's an enchanting and unforgettable tale that will leave viewers feeling both heartbroken and uplifted.
Princess Tutu is a series that is currently running and has 1 seasons (26 episodes). The series first aired on September 1, 2005.