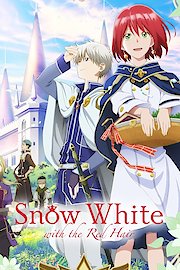 Watch Snow White with the Red Hair
TV-14
2015
2 Seasons
Snow White with the Red Hair is an anime series directed by Masahiro Andō and produced by Studio Bones, a renowned name in the world of anime. The show premiered in July 2015, and its second season concluded in March 2016. The series is based on the manga series written and illustrated by Sorata Akizuki.
The story of the show takes place in a fictional kingdom of Clarines, where a young herbalist and a cheerful girl named Shirayuki draws unwanted attention from the kingdom's prince, Raji Shenazard. The prince orders her to become his concubine, but Shirayuki refused to submit to his will. She then cuts her long hair and leaves the kingdom in the middle of the night. While fleeing, she meets Prince Zen Wistaria, the second prince of the neighbouring kingdom, who is on the run from his own palace. Moved by Shirayuki's plight, Zen offers her refuge in his kingdom.
Shirayuki accepts Zen's proposal and decides to start a new life in his kingdom. She takes a job as a court herbalist in the castle. However, her new life is not without challenges. She must win the trust of others and prove that she is capable of being a court herbalist. Moreover, she must navigate the kingdom's political intrigues and determine her own destiny.
Throughout the series, Snow White with the Red Hair explores the themes of freedom, loyalty, identity, and self-determination. Shirayuki's character is a strong and independent woman who stands for her beliefs and fights for her rights. Zen, on the other hand, is a true prince who values justice, honesty, and compassion over power and position. Their relationship is built on mutual respect, trust, and admiration.
One of the greatest strengths of Snow White with the Red Hair is its cast of characters. Every character is well-designed and well-developed, each with their own unique persona. Some of the notable characters in the show include:
- Shirayuki: A smart, resourceful, and optimistic girl who dreams of becoming a court herbalist and living a peaceful life. Despite facing numerous challenges, she never loses her faith in herself and others.
- Zen: A charismatic and kind-hearted prince who rebels against the strict traditions of the court and fights for the happiness of his people. He is not only Shirayuki's ally but also her friend and confidant.
- Obi: A charming and skilled ninja who works for Zen and becomes Shirayuki's bodyguard. His past is shrouded in mystery, but he proves to be a loyal and trustworthy ally for Zen and Shirayuki.
- Raji Shenazard: A young and arrogant prince who falls in love with Shirayuki and tries to force her into becoming his concubine. He is initially portrayed as a villain but later develops into a more sympathetic character.
Another significant aspect of the show is its animation. Snow White with the Red Hair is a beautifully animated series with lush backgrounds, vibrant colors, and fluid movements. The character designs are realistic and detailed, giving each character a distinctive appearance and personality. The music of the show is also worth mentioning, with its soothing melodies and haunting melodies adding depth and emotion to the scenes.
In conclusion, Snow White with the Red Hair is a compelling and engaging anime series that appeals to audiences of all ages. Its combination of romance, adventure, and politics creates a captivating story that keeps viewers hooked till the end. The show's characters are well-written and well-executed, and its animation and music are top-notch. Overall, this show is a must-watch for anyone looking for a heartfelt and thought-provoking anime experience.
Snow White with the Red Hair is a series that is currently running and has 2 seasons (25 episodes). The series first aired on July 6, 2015.