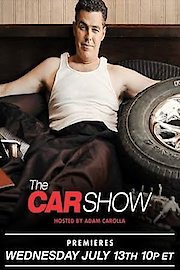 Watch The Car Show
The Car Show was a television series that aired on the SPEED Channel in 2011. The show was hosted by Glenn Ridge and Steven Jacobs and was dedicated to all things car-related. Throughout the series, the hosts covered a wide range of topics, from classic cars and luxury vehicles to the latest sports cars and cutting-edge automotive technology. They also explored the world of motorsports, covering everything from Formula One racing to drag racing and even monster truck rallies.
One of the unique features of The Car Show was its focus on the personal stories of car owners and enthusiasts, as well as the journeys of professional drivers and mechanics. The hosts interviewed a variety of guests, from everyday drivers with interesting stories to tell to celebrities who were car enthusiasts themselves.
In addition to interviews, the show also featured car reviews, in-depth analysis of automotive innovations and trends, and exciting test drives of the latest models. The hosts explored the technical details of cars, from engine performance to aerodynamics and safety features, and they shared their thoughts and opinions on what makes a great car.
The Car Show also featured some fun and lighthearted segments, such as challenges and competitions between the hosts or guests. They tested their driving skills in various scenarios, such as a lap around a race track or a challenging off-road course.
One of the standout elements of The Car Show was its visually stunning production value. The hosts were often on location, showcasing stunning vistas and scenic drives across the United States. There were also plenty of close-up shots of the cars themselves, revealing intricate details that car aficionados would appreciate.
Overall, The Car Show provided a comprehensive and entertaining look at the world of cars and car culture. Whether you were a hardcore gearhead or just someone who appreciated beautiful design and engineering, there was something in this show for everyone.
Unfortunately, the show only lasted for one season, but it remains a fondly remembered program for those who were able to catch it during its brief run. The Car Show was a true celebration of the automobile and the people who love them, and its legacy lives on as an inspiration for future shows dedicated to this timeless topic.