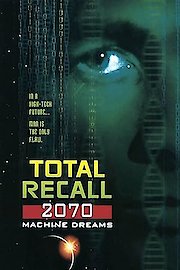 Watch Total Recall 2070
R
1999
1 Season
Total Recall 2070 is a fascinating sci-fi series from the late 1990s that stars Cynthia Preston and Michael Easton. It is set in a future world where humans live on earth and on planet Mars. In this dystopian future, corporations have replaced governments, and technology has advanced so much that humans can have their memories wiped and replaced with new ones, and they can even live forever in artificial bodies.
The series revolves around two characters: David Hume (played by Michael Easton), a tough and intelligent cop who works for the Citizens Protection Bureau (CPB), and Ian Farve (played by Karl Pruner), his partner and a ruthless cyborg. Together, they investigate crimes in a society that is becoming increasingly dangerous and unpredictable.
Hume is a complex character who has his own dark past, which is revealed gradually over the course of the series. He is a loner who struggles with his emotions and has a bad temper, but he is also intelligent and loyal to his job. Farve, on the other hand, is a cyborg who is more interested in the power he has over humans than in solving crimes.
One of the main themes of the show is the relationship between humans and machines. The show explores the idea of artificial intelligence and explores the question of what happens when technology becomes more powerful than human beings. It also examines the ethical implications of technology, such as the right to privacy and the right to die.
Total Recall 2070 was created in 1999, before the age of social media and ubiquitous technology, and yet it feels very relevant today. It is a cautionary tale about a world where corporations have too much power, and where technology is used to control the masses. At the same time, it is also a thrilling action series, with plenty of gunfights, explosions, and car chases. It is a show that will keep you on the edge of your seat from beginning to end.
The production values of the show are high, with impressive sets and special effects that make the world of Total Recall 2070 feel very real. The series also features an impressive cast of actors, including Cynthia Preston, who plays the role of Dr. Schenk, a scientist who is a pioneer in the field of memory implants. Other notable actors include Michael Anthony Rawlins, who plays Luther Ironhorse, a member of the Martian underground, and David O'Donnell, who plays the role of James Raeder, Hume's former partner.
One of the best things about Total Recall 2070 is that it doesn't shy away from complex and dark themes. The world of the future is not a happy one, and the characters are all flawed in their own ways. The series explores the idea of memory and identity, as well as the ethics of using technology to manipulate people. It is a fascinating and thought-provoking series that will keep you engaged until the very end.
In conclusion, Total Recall 2070 is a must-watch for sci-fi fans who love dystopian worlds and complex characters. It is a series that is both thrilling and thought-provoking, with high production values and a talented cast. If you are looking for a show that will keep you on the edge of your seat while also making you think, then Total Recall 2070 is definitely worth watching.