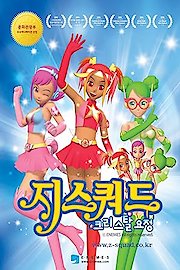 Watch Z-Squad
Z-Squad was a Canadian animated television show from Nelvana that premiered in 2006 and ran until 2007. The series was created by Tom McGillis and Jennifer Pertsch and featured a team of skilled operatives who fought against the forces of evil to ensure that the safety of the world and its inhabitants was guaranteed. The series was targeted at a younger audience and was a mix of science fiction and action-adventure.
The show followed the adventures of the Z-Squad, which was lead by a young, brave and determined girl named Kate. The rest of the team members included Fish, a tech-savvy genius who built and maintained the group's equipment, Taser, a skilled martial artist and weapons specialist, and Danny, the team's muscle and brawn. Together, they were a formidable group, and each member of the team had their own unique set of skills that helped them to accomplish their missions.
The team's missions varied from episode to episode, and they often involved saving the world from destruction. They faced a wide range of villains, including robots, zombies, and aliens, and they battled against these enemies in a variety of locations, including underground lairs, deserted cities, and deep space. The show featured plenty of action, with explosive fights and chases that kept viewers hooked.
One of the main strengths of Z-Squad was its compelling characters. Each team member had their own personality and backstory, and they all brought something unique to the group dynamic. Kate was a natural leader, and her courage and determination made her an inspiring figure. Fish was a skilled hacker and inventor, and he was always coming up with new gadgets and gizmos to help the team. Taser was a fierce warrior and highly trained assassin, and he could hold his own in a fight. Danny was the muscle of the group, and his strength and size made him a formidable opponent.
Another key aspect of the show was its sense of humor. The team members often joked and bantered with each other, even in the midst of intense danger. This light-hearted tone made the show more accessible to younger audiences and added to its overall appeal.
In terms of animation, Z-Squad had a stylized look that set it apart from other shows. The characters were designed in a distinctive way, with exaggerated features and bold colors. The animation was of a high quality, and the action scenes were dynamic and well-choreographed.
Overall, Z-Squad was an engaging and enjoyable animated series that was perfect for younger audiences. It blended thrilling action with humor and compelling characters, making it a show that was easy to get hooked on. While the series only ran for one season, it left a lasting impression on its fans, and it remains a fondly remembered show to this day.
Z-Squad is a series that is currently running and has 2 seasons (38 episodes). The series first aired on January 1, 2006.