Watch Chicago Med
Chicago Med is a television show about the happenings of a Chicago hospital. The show focuses on a group of doctors as they work hard to save patients, solve a rash of medical mysteries, and struggle with the hardships of the medical field.
Tuesday 9:00 PM et/pt on NBC

2 Seasons,

29

Episodes - Currently Airing

November 17, 2015

10

/
Watch Full Episodes of Chicago Med

Season 2 Episode 11
Graveyard Shift (43:06)
Season 2 Episode 10
Heart Matters (42:54)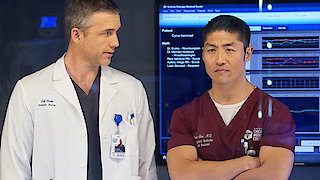 Season 2 Episode 9
Uncharted Territory (42:59)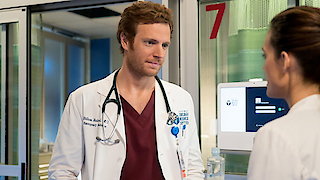 Season 2 Episode 8
Free Will (43:10)
Season 2 Episode 7
Inherent Bias (43:13)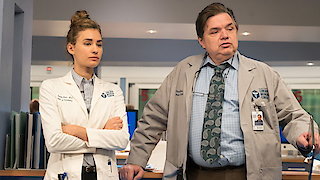 Season 2 Episode 6
Alternative Medicine (42:18)

Watch Episodes
News
Clips & Extras
Chicago Med

Full Episode Guide
Season
2
11 full episodes, 21 clips available
Episode

11

-

Graveyard Shift

It's a long graveyard shift for Dr. Reese, who must pronounce multiple patients dead. When April gets called in to work, Tate gets upset and encourages her to slow down. Meanwhile, Dr. Charles passes along some vital news to Dr. Latham, and Goodwin asks Dr. Rhodes to work on a most unusual patient.

Episode

10

-

Heart Matters

Dr. Rhodes and Dr. Charles' heart transplant patient gets into an automobile accident, thus complicating her surgery. Maggie's past catches up to her. Elsewhere, Dr. Manning and Dr. Halstead must defend their actions when explaining a patient's cause of death.

Episode

9

-

Uncharted Territory

Dr. Charles must determine if a patient is a candidate for a new heart, while Jeff makes a confession to Dr. Manning. Dr. Choi deals with two MMA fighters who are brought into Chicago Med in bad shape.

Dr. Halstead and Dr. Manning deal with two feuding brothers who are forced to meet together when one finds himself desperate for a new kidney. Dr. Rhodes and Dr. Latham treat a teenage girl with a genetic condition in need of surgery, but whose overprotective mother is rejecting the course of action.

Episode

7

-

Inherent Bias

Sharon Goodwin sees her childhood sweetheart and he's desperate for help. In order to get his financial footing, Dr. Halstead is tempted by a concierge doctor app idea. Meanwhile, a young woman with a heart infection is treated by Dr. Rhodes against Dr. Charles' advice.

Episode

6

-

Alternative Medicine

Dr. Manning takes care of a young cancer patient but can't find the right words to tell her parents the truth of her condition. Elsewhere, Dr. Reese gets contacted by Danny, the troubled young man, and turns to Dr. Charles and Det. Lindsay for help in resolving a difficult situation.

Episode

5

-

Extreme Measures

A car accident during the Chicago Marathon leaves a victim in critical condition and puts Dr. Halstead, April and her fourth-year medical resident brother Noah, to the test when they're forced to perform a difficult procedure in the field. A mother brings in her 8-year-old girl who is complaining of sudden hearing loss.

Episode

4

-

Brother's Keeper

When several patients have the same rare infection, Dr. Charles' daughter Robyn, an epidemiologist, must find the common link. Dr. Choi and Dr. Rhodes tend to an elderly man who is very ill, but his son and his young girlfriend fail to agree on how to best treat him.

Episode

3

-

Natural History

Dr. Manning and fourth-year medical student Jeff Clarke face a language barrier and a mystery illness when an Indonesian man arrives at the hospital with severe symptoms. Maggie takes Dr. Halstead to her family reunion where he meets her sister Denise and uncovers deep-rooted family secrets.

Dr. Manning and Dr. Rhodes discover the ailments of their respective pediatric patients may actually be intertwined. Elsewhere, Dr. Halstead and Dr. Charles treat a homeless man who possesses a positive outlook on life.

In the second season premiere, Dr. Rhodes starts his fellowship in cardiothoracic surgery, but clashes with his new boss, Dr. Latham. Dr. Choi finds it difficult to be the new chief resident, while Dr. Charles approaches Sarah with an interesting opportunity that surprises her.
Season
1
18 full episodes, 27 clips available
Dr. Rhodes cares for Dr. Downey while Goodwin faces personal issues. April is the recipient of a punch while attending to a disorderly patient, but the incident could be a blessing in disguise.

April and Dr. Halstead treat an alcoholic homeless man with a broken leg, but they fail to agree on how to best treat his illness. Still grieving the death of her late husband, Dr. Manning experiences a medical event after realizing her wedding ring is nowhere to be found.

When Dr. Rhodes and Dr. Downey tend to a patient with multiple health issues, they discover he may have been misdiagnosed.

Dr. Choi and Dr. Charles must figure out the best treatment for an erratic patient who claims his heart is pounding inside his head and takes drastic measures to stop it.

Dr. Halstead and Sharon Goodwin must deal with a husband determined to harvest his recently deceased wife's eggs. Dr. Charles tends to a patient who is trying to remove his own arm from his body because he feels like it doesn't belong.

Nurse Lockwood gets in trouble with the law after drawing blood from a suspected DUI patient without his consent. Meanwhile, Dr. Halstead discusses the consequences of the pending lawsuit against him with his lawyer, and Dr. Manning and Sharon Goodwin tend to a single mother and her 6-month old.

Episode

11

-

Intervention

Dr. Rhodes and Dr. Choi fail to agree about how to treat a patient suffering from a life-threatening heart condition. The pending lawsuit against Dr. Halstead continues to move forward, and Sarah Reese and Dr. Zanetti scramble to save a patient with a misdiagnosed flesh-eating bacterial disease.

Dr. Rhodes and Dr. Downey prepare to operate on Ray, a 9/11 hero who is suffering from pulmonary fibrosis.

Dr. Manning is back from maternity leave and treats a teen with a long history of medical issues, while Dr. Choi goes above and beyond to help a former Navy shipmate with a potentially life-threatening ailment.

When legal issues complicate matters that stall a life-saving bone marrow transplant, Sharon Goodwin is faced with a moral dilemma.

Two airplane stowaways receive medical attention after suffering major injuries from the travel.

After a member of the team is the victim of a life-threatening stabbing, Dr. Connor Rhodes and Dr. Toni Zanetti race against the clock to save him.

The doctors work tirelessly to save numerous victims of a movie theater shooting. Meanwhile, Sharon Goodwin attempts to keep the press at bay.

Dr. Connor Rhodes' past catches up with him when he tends to a close family friend who's been impaled by glass shards.

While tending to a bleeding teenage girl, Dr. Choi discovers she was pregnant, sparking a frantic search for her abandoned baby.

In the series premiere, the ER's grand opening comes to a halt when numerous car crash victims inundate the hospital staff.
If You Like Chicago Med, Then Try...
Most Popular Chicago Med Episodes
Season 2 Episode 10

Heart Matters

1/12/2017

Season 2 Episode 11

Graveyard Shift

1/19/2017

Season 1 Episode 1

Derailed

11/17/2015

Season 2 Episode 9

Uncharted Territory

1/05/2017

Season 2 Episode 7

Inherent Bias

11/03/2016
Chicago Med Video Clips & Extras
One Shot to Save a Life
Clip (00:30)
The Darkness of Human Nature
Clip (01:15)
Graveyard Shift
Preview (00:32)
The End Is Just the Beginning
Clip (03:23)
Heart Matters
Preview (00:31)
Choi Learns a Powerful Lesson About Forgiveness
Clip (01:37)
Sisters
Clip (01:41)
A Crashing Start
Clip (02:01)