Watch Clash Of The Choirs
Cameras follow 5 celebrity singers who go back to their hometown and assemble an amateur choir, made up of everyday people. After live performances, viewers will choose the winning group through a voting process. That choir will then pick a prize which will benefit their hometown in a positive way.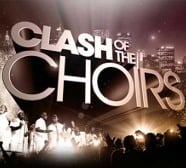 Clash Of The Choirs

Full Episode Guide
Episode 4 - Season 1, Episode 4

The winning choir is chosen in the season finale.

Episode 3 - Season 1, Episode 3

A second choir is eliminated as the third night of the contest continues.

Episode 2 - Season 1, Episode 2

The first choir is eliminated and the second night of competition goes on.

Episode 1 - Season 1, Episode 1

The first night of competition begins with five choirs, assembled by singers, Patti LaBelle (Philadelphia, PA), Nick Lachey (Cincinnati, OH), Michael Bolton (New Haven, CT), Blake Shelton (Oklahoma City, OK) and Kelly Rowland (Houston, TX).
If You Like Clash Of The Choirs, Then Try...