Watch Cupcake Wars
Cupcake Wars, a competition show that airs on the Food Network, centers on the ever expanding world of cupcake baking. Four contestants are pitted against one another in a competition that leaves just one cupcake maker standing. The grand price is $10,000 on the opportunity to have their cupcakes featured at a major event.
Each week the cupcake makers are faced with a theme; often the theme correlates with an event that will feature the winning cupcakes. Before they can make it to the grand prize the contestants must battle through three rounds of judging. The first round challenges the four contestants to use theme-specific ingredients to create a tasty and unique cupcake. The esteemed panel of three culinary judges and one special guest judge base their judgement on the taste and texture of the cupcake alone.
At the end of the first round three of the four contestants advance, while one packs their pastry bags and heads home. The second round pits the contestants in a race against the clock. They must create three, unique and theme-decorated cupcakes the judges to try. At the end of round two only two contestants advance to the final round.
The final round forces the contestants to bake 1,000, full-decorated cupcakes in just two hours. The bakers are given 5 assistants to help the cupcake creations come to life and a carpentry team to create a themed display case. The final round is based on taste, decoration and the display idea as well. At the end of the show one contestant is chosen as the winner. They receive a $10,000 check and their cupcakes are hauled over to whichever special event the show features that week where they are given the chance to meet influential people in the culinary world.
The show is currently in its 6th season and has pulled bakers from all walks of life. Award-winning chefs are pitted against caterers and start-up businesses alike. Some episodes have also featured diet specific chefs including vegan and gluten-free specialty bakers. The bakers compete for the pride, prize money and notoriety that comes from winning cupcake wars.
Sunday 8:00 PM et/pt on Food Network

10 Seasons,

118

Episodes - Currently Airing

4/10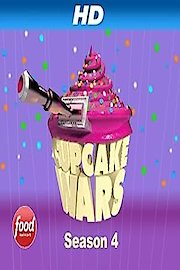 Cupcake Wars

Full Episode Guide
Episode 3 - Good Cause Cupcakes
Season 9
(14 full episodes)
Episode 14 - Breeder's Cup

Four cupcake bakers compete for the chance to have their cupcakes at the center of the legendary Breeders' Cup World Championships.

Episode 13 - Comedy Cupcakes

Four bakers compete to have their cupcakes featured at a celebrity-packed VIP party for Variety magazine's Power of Comedy. Celebrity publicist Jennifer Styles serves as the guest judge.

Episode 12 - Aquarium of the Pacific

Episode 8 - Great American Nightmare

Episode 6 - L.A. Bridal Bash

Episode 5 - Annie the Musical

Episode 4 - The Wizard of Oz

Episode 3 - WWE SummerSlam

Episode 2 - Marilyn Monroe's 60th

Episode 1 - The Honest Company
Season 8
(12 full episodes)
Season 7
(13 full episodes)
Season 6
(15 full episodes)
Season 5
(9 full episodes)
Season 4
(13 full episodes)
Season 3
(13 full episodes)
Season 2
(12 full episodes)
Season 1
(10 full episodes)