Watch Gardening by the Yard
Gardening by the Yard is a gardening show that is hosted by Paul James. He is a master gardener who obtained that status in 1983. Although he studied botany and plant studies as an undergraduate, he states that he has learned the most about plants while digging in the dirt. James is the creator, writer and producer of the Gardening by the Yard show; which he films mostly in his own yard located in Tulsa, OK. His topics include everyday organic gardening and landscaping, seasonal tasks, problems, and projects.
James works to keep the show relevant to people who want a great looking yard, but fret about the time commitment involved in the upkeep of that yard. Guest appearances by other notable gardeners are occasional, as are shows on location at nurseries that are local and across the country.
James uses a practical yet whimsical hosting style to demonstrate gardening technique and proper use of gardening and landscaping tools. If he has a problem in his yard, he will feature it in an episode as he works to find a suitable solution. James uses these episodes to stay connected to his viewers, after all, the climate will not be controlled by even the most knowledgeable everyday gardener.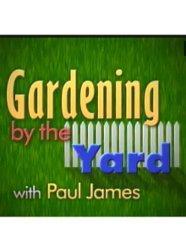 Gardening by the Yard

Full Episode Guide
Episode 13 - Poinsettias, Firepits and Living Wall...

Paul gives an overview of poinsettias, firepits and living walls.

Episode 12 - Extending the Life of Cut Flowers

Paul provides tips to extend the life of cut flowers.

Episode 11 - Preparing for Frost Season

Paul explains how to prepare your yard for frost.

Episode 10 - Composting and Other Tips on Organic ...

Paul learns how compost becomes gardeners' gold.

Episode 9 - High School Horticulture

Episode 8 - Mushrooms, Pumpkins and a Water Featu...

Episode 6 - Compost and More

Episode 5 - Spacing Requirements

Episode 4 - Gadgets and Gizmos

Episode 3 - Tabletop Gardens

Episode 2 - New Potting Bench

Episode 1 - Blueberry Fields Forever
Episode 13 - Dealing With Deadwood

Episode 12 - Evergreen Makeover

Episode 8 - Chores and More

Episode 6 - Spring Freeze

Episode 4 - Great Garden Ideas

Episode 3 - Pruning Rose Bushes

Episode 2 - I'm Diggin' It