Watch Heartland
Heartland is a family oriented drama about two sisters, Amy and Lou Fleming, who live with their grandfather, Jack Bartlett. Based in the Alberta Rockies of Alberta, Canada, the drama takes the viewers through the ups and downs of life on a working horse ranch.
After Amy and Lou's mother is killed in a car accident, the girls work hard to keep their mother's dream going by working with abused and neglected horses. Amy has a special gift, as did her mother, for being able to talk to and understand a horse's feelings and needs much like a horse whisperer.
While Amy works with curing the damaged horses, her sister Lou keeps the ranch running by advertising Amy's services, finding clients and trying to keep the ranch afloat financially. Grandpa Jack is the rock of the family who helps maintain Heartland, the horses and fixes everything on the ranch and in his family.
The girl's father, Tim Fleming, walked out on them and their mother when the girls were younger. Having him walk back in to their lives after their mom died caused a lot of tension with Jack and both girls. Lou who was older when he left was more forgiving and embraced a relationship with her dad. Amy, however, was bitter and unforgiving at first. Eventually after working through her anger, Amy allows her father to be part of her life again.
As the drama progresses, Lou marries and has a daughter. She returns back to Heartland after a brief time living overseas. Ty, the ranch hand the girl's mother hired before her death, falls in love with Amy and proposes marriage. Tim rekindles an old flame and Jack remains steadfast in his position of head of the family.
Heartland is based on the Heartland book series written by Lauren Brooke and airs on the CBC network on Sundays at 7pm.
Watch Full Episodes of Heartland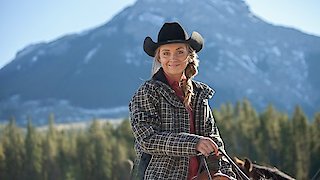 Season 8 Episode 818
Written In Stone (42:31)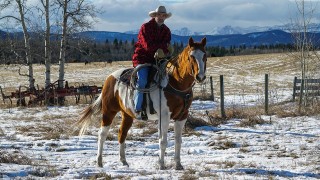 Season 8 Episode 817
All I Need Is You (42:47)
Season 8 Episode 816
Faking It (42:47)
Season 8 Episode 815
Eclipse of the Heart (42:43)
Season 8 Episode 814
Riders on the Storm (42:48)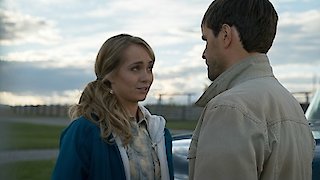 Season 8 Episode 813
Cowgirls Don't Cry (42:49)

Heartland

Full Episode Guide
Season
8
18 full episodes
Episode

818

-

Written In Stone

Amy and Ty's wedding day has arrived! Lou struggles to pull together the wedding of their dreams and Jack says goodbye to an old friend.

Episode

817

-

All I Need Is You

With the big day approaching, Amy throws herself into gentling a rescue horse. Ty is unexpectedly arrested and their happy future may be in jeopardy.

The Heartland family pulls together to support a devastated Georgie when Lou and Peter are forced to tell her distressing news.

Episode

815

-

Eclipse of the Heart

Lou returns from Vancouver with a secret that threatens to change the Heartland family forever.

Episode

814

-

Riders on the Storm

When Scott's nephew comes to visit, Amy and Ty help him realize he is worthy of continuing his family's tradition of relay racing.

Episode

813

-

Cowgirls Don't Cry

Tim is immediately confronted with a problem student at his new rodeo school and a reluctant Amy is forced into wedding planning with Lisa.

Episode

812

-

Broken Heartland

When Amy is invited to do a horse clinic in Montana she and Ty decide to take a road trip together until an unexpected encounter derails their plans.

Episode

811

-

The Silent Partner

Amy finds herself in a difficult position when a client reveals a secret about Peter.

Episode

810

-

The Heart of a River

With the fate of the wild horses hanging in the balance, Amy and Ty make a desperate bid to save them and find themselves drawing closer together.

Episode

809

-

The Pike River Cull

Jack and Amy go to the aid of an old friend when in a herd of wild horses faces a devastating threat.

Episode

808

-

The Family Tree

A school project opens a door to Georgie's past that could ultimately change her life at Heartland.

Episode

807

-

Walk a Mile

Amy struggles to help a family whose team of horses run wild at a family hayride.

Amy initially blames Georgie and Jade when a client horse repeatedly escapes from his stall, but she is forced to reevaluate when she makes a surprising discovery.

Episode

805

-

Endings and Beginnings

Amy struggles to turn a pair of horses into a team and is forced to go head-to-head with a rival trainer.

Episode

804

-

Secrets and Lies

A surprise visitor at Heartland makes an unwelcome declaration and Amy is forced to deal with the devastating consequences.

Episode

803

-

Severed Ties

Amy's attempts to reunite with Georgie are continually thwarted by the arrival of lavish gifts from afar.

Episode

802

-

The Big Red Wall

Lou throws herself into party planning mode after a big announcement from Jack and Georgie makes a discovery that shakes her relationship with Amy.

Episode

801

-

There and Back Again

Amy returns from Europe and finds herself struggling to get back into life at Heartland and her relationship with Ty.
Season
7
18 full episodes
Episode

18

-

Be Careful What You Wish For

Amy works with Ty and Caleb's barrel racing horse and ends up riding him in a high-stakes competition causing the mounting tensions between Ty and Amy to come to a head.

Amy and Ty are at odds over Ty's risky investment in a barrel racing horse, and things become increasingly complicated when Amy starts working closely with Prince Ahmed.

Episode

16

-

The Comeback Kid

Episode

15

-

Smoke 'n' Mirrors

Tim goes through a mid-life crisis and buys a hot horse instead of the more traditional hot car.

Episode

14

-

Things We Lost

When a road trip goes awry Jack and Lisa find themselves lost in the woods, but a trip down memory lane may just help them find their way back together.

Episode

13

-

Lost Highways

Amy works with a horse to help it overcome its fear of water, but sparks fly when Jack learns the horse is owned by a former flame.

Episode

12

-

Walking Tall

When Ty brings a maltreated Tennessee Walker to Heartland to convalesce, Amy goes undercover in order to bring its abusers to justice.

Ty forces Amy to confront her fear and work with the horse that injured her in order to save its life.

Episode

10

-

Darkness and Light

Amy's future hangs in the balance as she lies unresponsive after her accident.

Episode

9

-

There But For Fortune

Amy's success working with a high-end show jumper ultimately puts her life in jeopardy.

When a family vacation is cancelled at the last minute, Jack and Georgie head off for a long-awaited fishing trip that lands them in a situation they hadn't bargained for.

When an old friend turns to Ty for help, Ty is torn between his ties to the past and his loyalties to his family at Heartland.

Georgie is enthralled when she sees one of Amy's clients trick riding and she's determined to pursue it despite Lou's misgivings

Episode

5

-

Thread The Needle

Amy attempts to help a young RCMP constable overcome a personal challenge to fulfill his lifelong dream of performing in the RCMP Musical Ride.

Episode

4

-

The Penny Drops

As Amy and Ty work to help a mare and foal through a difficult weaning process, Mallory's discovery that Jake is planning to leave Hudson forces her to re-examine the choices she has made.

Episode

3

-

Wrecking Ball

Lou and Tim find themselves on opposite ends of a fight when Tim attempts to rebrand Maggie's into a soulless fast food franchise.

Episode

2

-

Living In The Moment

Amy and Ty find the ranch of their dreams, while Peter attempts to mediate when Georgie and Olivia come to blows.

Episode

1

-

Picking Up The Pieces

As the family struggles to cope with recent changes at the ranch, Amy realizes she must reclaim her Miracle Girl' status and focus on her work with horses.
Season
6
19 full episodes
Season
5
21 full episodes
Season
4
20 full episodes
Season
3
20 full episodes
Season
2
20 full episodes
Season
1
17 full episodes
Most Popular Heartland Episodes
Season 8 Episode 801

There and Back Again

1/01/2016

Season 8 Episode 818

Written In Stone

1/01/2016

Season 8 Episode 817

All I Need Is You

1/01/2016

Season 8 Episode 814

Riders on the Storm

1/01/2016

Season 7 Episode 1

Picking Up The Pieces

1/01/2016