Watch Heli-Loggers
Heli-Loggers is a reality TV show about loggers in Canada's British Columbia. The logging crew chops down enormous trees in a rain forest using special helicopters to transport them. Gord Closson runs the biggest log project. The risk-taking job collects million dollars worth of cedar trees. The men on the show take part of dangerous work in order for the world to have natural resources. Gord tries to balance family life while working and meeting his daily goals. He and his team must battle against Canada's rugged weather, climbers being hurt, and training the new crewmembers.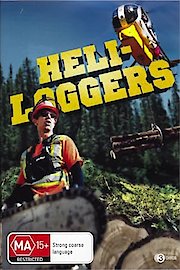 Heli-Loggers

Full Episode Guide
Episode 10 - The Grand Finale

Season 1 finale finds one climber being injured, and Gord must ask for help in order to complete his deadline.

Episode 9 - Calling All Climbers

As a new job begins, Gord finds himself having problems in balancing both his work and family life.

Episode 8 - Gord to the Rescue

Episode 7 - Big Wood, Big Finish

Expensive delays are caused by bad weather and mechanical failures in the multimillion dollar Brittain River project.

Episode 6 - Dangerous Ground

Episode 5 - The New Greenhorn

Episode 4 - Heavy Lifting Required

Episode 2 - The Greenhorn and the Beast
If You Like Heli-Loggers, Then Try...