Watch Lottery Changed My Life
Lottery Changed My Life is a documentary series that began in 2010 on TLC. Each episode follows the story of a person who recently had their lives changed by winning the lottery. It shows the good, the bad, and the unforgettable parts of their lives as they figure out what the next step of their lives will be after winning the lottery and becoming financially set for life. Viewers will see people who are smart about their money, while others go crazy and live out their fantasies, spending money on outrageous items and not so smart business deals.
The star of the show is Gary B. Ross. He is the lead detective on this docu-series. He follows people who had just won the lottery as they tell their rags to riches story. One story was a man in Florida who had filed bankruptcy a number of years before winning 14 million dollars. He went from living in a trailer to a 4100 sq foot home in Jacksonville. He also bailed out his mother's business venture. Other stories include a woman who won millions from the mega money tickets and refuses to buy anything new, a couple who won 50 million dollars and built their dream home then donated the rest to charities, and two men who got lucky and won several million and do what they feel millionaires should do; buy a mansion, and fly to Australia, along with many more stories of people who have turned a lucky corner in their lives with the help of the lottery.
The show is 60 minutes long and appears on the channel TLC. It debuted in October 2010, and since then has had five seasons and over several dozen episodes. Some of the places they have filmed include Florida, Illinois, and Texas to name a few.
Monday 9:00 PM et/pt on TLC

3 Seasons,

10

Episodes - Currently Airing

5

/5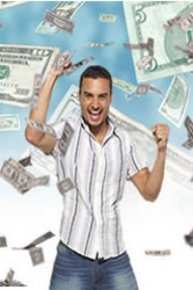 Lottery Changed My Life

Full Episode Guide
Episode

5

-

Big Jackpots, Big Changes

In this special episode of Lottery Changed My Life, we're taking a look back at the 20 most life changing lottery wins of the entire series. These are the biggest and best transformations of the unforgettably extravagant jackpot wins.

Episode

4

-

Millionaire Bride

LCML fans may remember $112 million dollar California Lottery winner, Cynthia from last season. She's back and she's ready to shop, and this time she's pulling out the big bucks now that she's engaged and planning the wedding of a lifetime!

Episode

3

-

Sheriff Millionaire

A retired sheriff won the $79 million jackpot and gives back to his community.

Episode

2

-

Most Eligible Millionaire

Leroy won two million dollars in the Michigan lottery. Now, he's gone from food stamps to living the high life with his son Jeff in tow, who is determined to help his dad become the most eligible millionaire!

Episode

1

-

Race Car Millionaire
Episode

6

-

Teenage Millionaire

Episode

2

-

Island Dreamers

Episode

1

-

Streetsweeper Millionaires