Watch The Haves and the Have Nots
Series Length:
1 Season,

16

Episodes
Schedule:
Tuesday 9:00 PM et/pt on OWN
Description:
The Haves and the Have Nots is an American television drama created by Tyler Perry, based on his 2011 play of the same name. The story follows the Cryers, a wealthy family living in Savannah, Georgia, and the Youngs, their hired help. The complicated relationship between and among these families is explored throughout the course of the series, which has the honor of being the first scripted television show to air on the Oprah Winfrey Network.
The titular Haves of the show are the Cryer family, made up of Jim and Katheryn and their two grown children, Wyatt and Amanda. On the surface, the Cryer family has it all- they are surrounded by luxury, secured by their wealth and the status Jim's status as a powerful criminal judge. However, behind the opulent façade, secrets and lies threaten to tear the family apart from within. Jim's double life endangers his position; Wyatt wrestles with apathy and substance abuse. Amanda struggles, sometimes violently, to live up to the expectations of her parents and the family name, while Katheryn is left with no choice but to try and keep her family from falling apart, no matter what the personal cost.
The Have Nots seem, at least at first, to have a much stronger relationship. Hannah is poor, but finds strength in her spirituality and her son, Benny. Sadly, their simple but virtuous life is soon threatened by the reappearance of Hannah's estranged daughter, Candace. So unlike her mother, she is an agent of chaos, seducing and manipulating anyone who dares stand between her and what she wants. Candy quickly realizes that, as high-priced call girl in Jim Cryer's employ, she has stumbled into a position of incredible power and opportunity.
The Haves and the Have Nots is a complex story, unafraid to explore a variety of topics and social issues. Family dynamics, sexuality, blackmail, addiction, betrayal, race- Perry never shies away from the drama, preferring to challenge his audience rather than play it safe. The charged atmosphere creates an opportunity for viewers to lose themselves in the lives of the characters, experiencing their triumphs and tragedies.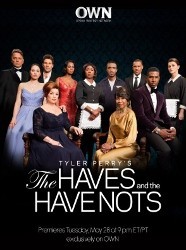 The Haves and the Have Nots

Full Episode Guide
Season 1
(57 clips available)
Episode 16 - No More Hiding

First Aired: September 03, 2013

Jeffery finally comes out to his parents. Hanna accidentally tells Benny that Tony is his father.

Episode 15 - The Truth Will Set You Free

First Aired: August 27, 2013

Katheryn reveals the truth about her knowledge of Jim's past while talking with Hanna. Later, Jeffery professes his love for Wyatt.

Episode 14 - My Name Is Veronica

First Aired: August 20, 2013

Katheryn leaves the hospital early, running the risk of exposing her secret; Veronica shares new information about Benny's case with David.

Episode 13 - What Are You Doing Here?

First Aired: August 13, 2013

Veronica searches for answers to Benny's case; information comes to light linking Tony and Benny; Jeffery tells Laura to stay away from Wyatt.

Episode 11 - Not My Daughter

Episode 7 - A True Friend

Episode 5 - A Woman's Pride

Episode 4 - Entering the Race

Episode 3 - Beautifully Dysfunctional

Episode 2 - Playing In The Deep End

Episode 1 - The Big Surprise (Pilot)