Watch Top Chef
Top Chef is a show that airs on Bravo that features talented and famous chefs from around the world who compete against one another. There are many different culinary challenges that usually feature a different food item or a different environment. The chefs have to battle it out with the information given to them and then a panel of judges decides who wins and who loses. This panel is usually made up by leaders in the food or wine industry. Special appearances by TV or Movie celebrities sometimes do happen on the judging panel.
In Top Chef the chefs are put under a large amount of stress due to the time limits and the certain ingredients they are given. Sometimes there will be a special ingredient that the chef does not know how to use but they have to use their best judgment and work with it. Also, the chefs have to work in many different restaurants or kitchens around the world. Depending on where they are they will have to cook a dish that pertains to that area. For example if they were in a kitchen in Italy they would prepare an Italian Dish for the judges. The judges then taste all of the dishes and score them. They score them for taste, creativeness, and presentation. The show goes on until there is one last chef left who is announced the winner and the Top Chef.
Top Chef on Bravo is a television show that shows the skills of the finest chefs in the world. Using difficult ingredients and techniques they create masterful dishes for the judges. The judging panel is always changing which adds another aspect to the show which is refreshing. Top Chef shows off what its like to be the best in the world at preparing food.
Watch Full Episodes of Top Chef

Season 14, Episode 1
Something Old, Somet... (54:00)
Season 13, Episode 15
Finale (43:13)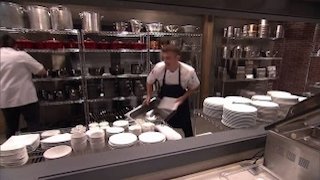 Season 13, Episode 14
Magic Hour (43:13)
Season 13, Episode 13
Back Where It All St... (54:16)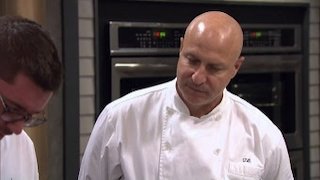 Season 13, Episode 12
Wok This Way (43:14)
Season 13, Episode 11
Hammer Time (43:13)

Watch Episodes
News
Clips & Extras
Top Chef

Full Episode Guide
Episode

2

-

Southern Hospitality

The chefs join the judges for a traditional shrimp boil; the newcomers face off against the returning chefs to put a spin on a low-country family meal; after dining with chefs Carrie Morey and BJ Dennis, each team creates a family-style feast.

Episode

1

-

Something Old, Something New

Eight new chefs are ready to take on eight returning chefs in Charleston, S.C. The new chefs enter the kitchen first to whip up as many dishes as possible in one hour using a whole chicken; the veterans square off to re-imagine shrimp and grits.
Season
13
15 full episodes
In the season finale, the winner is announced.

The chefs head to Sin City where they participate in a high-stakes challenge of cards and cuisine. Later, they get tricky when they create a dish for illusionist David Copperfield.

Episode

13

-

Back Where It All Started

While in San Francisco, the chefs cook for chef Traci Des Jardins. Later, they attempt to impress master chef Hubert Keller, the judges and San Francisco culinary elite with cuisine inspired by the restaurant Fleur de Lys.

Episode

12

-

Wok This Way

The remaining chefs make their way through San Francisco's legendary Chinatown and end up at World-Famous chef Martin Yan's M.Y. China for a quickfire challenge. Then Umami Burger Restaurateur Adam Fleischman tasks the chefs to create their own Fast-Casual Restaurant Concept for hungry diners and investors.

The Chefs head to Oakland to find their inner rapper as they prepare a dish for Oakland native MC Hammer. He will decide which dish is too legit.

Episode

10

-

Restaurant Wars, Part 2

After preparing a full lunch service, the chefs must gear up for dinner; the judges grade on concept, food, service, and consistency.

Episode

9

-

Restaurant Wars, Part 1

It's time for the much anticipated Restaurant Wars. For the first time in Top Chef history, the chefs are opening their restaurants for both lunch and dinner services.

Episode

8

-

Where's the Beef?

The chefs cook for Beefsteak, a black-tie event which the diners eat with their hands; diners include Colin Hanks, Max Silvestri and Matt Selman.

Episode

7

-

Back in the Day

The Chefs return to Los Angeles to celebrate the 10th anniversary of Top Chef.

The chefs head south to San Diego where they must create their best high-end fish taco for renowned Mexican Chef Javier Plascencia.

Episode

5

-

Big Gay Wedding

Supermodel Chrissy Teigen challenges the Chefs to make their best Quickfire "date" dishes. And in a Top Chef first, the Chefs provide food for a wedding for twenty five gay couples.

Episode

4

-

It's a Dry Heat

The cheftestants arrive in Palm Springs where world-renowned chef Jose Andres issues them a Quickfire challenge using solar powered stoves.

Episode

3

-

Spines and Vines

The chefs compete in their first sudden-death, quick-fire challenge; in the elimination challenge, the chefs serve up surf and turf to a table of celebrated chefs and judges.

Episode

2

-

Pop Up Pandemonium

The chefs open pop-up restaurants with popular foods from their respective neighborhoods; guest judge Ludo Lefebvre joins the others for Mexican, Persian, Korean, and vegan cuisine and picks the dish that best reflects Los Angeles' mosaic of cultures.

Episode

1

-

Stop the Presses

The season opens in Los Angeles with 17 chefs getting a shot at culinary stardom. The chefs hope to impress food critics and reporters in the first elimination round.
Season
12
15 full episodes
Season
11
22 full episodes, 119 clips available
Season
10
17 full episodes, 151 clips available
Season
9
18 full episodes, 147 clips available
Season
8
17 full episodes, 154 clips available
Season
7
15 full episodes, 222 clips available
Season
6
16 full episodes, 191 clips available
Season
5
15 full episodes, 207 clips available
Season
4
15 full episodes, 87 clips available
Season
3
17 full episodes, 1 clip available
Season
2
13 full episodes, 91 clips available
Season
1
12 full episodes, 122 clips available
If You Like Top Chef, Then Try...
Most Popular Top Chef Episodes
Season 14 Episode 1

Something Old, Something New

12/01/2016

Season 13 Episode 15

Finale

3/17/2016

Season 13 Episode 1

Stop the Presses

12/02/2015

Season 1 Episode 1

Who Deserves to Be Here

3/08/2006

Season 10 Episode 8

Jalapeno Business

12/26/2012
Top Chef News
'Top Chef' Going Deep in the Heart of Texas With Emeril
It's hot these days in Texas. Ridiculous hot. Endless days of hundreds hot. And while the weather forecasters are saying things like "we can't even buy a cloud," at least the state can see something cool coming their way in the future. Bravo announced today that the new season of "Top Chef" will take place this season in Austin, Dallas and San Antonio.
View More News

Top Chef Video Clips & Extras
Emerils NOLA: Camellia Grill
Clip (02:01)
Knife Fight: Nicholas vs. Carlos
Clip (01:19)
Service Is a Clusterf...
Clip (01:21)