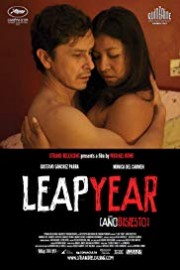 Watch Leap Year
NR
2010
1 hr 34 min
71
This movie circles around a young woman by the name of Laura. She is a freelance journalist that lost her job. She assures the company she worked for that she had many jobs that were lining up, trying to convince them she was in high demand. This created a fantasy world that spun out of control. Laura's phone conversations with her mama entangled with this fantasy world, where she dined on steak instead of eating just noodles. She didn't want mama to worry. Her lies continued to build to keep herself safe from the outside world, both good and bad.
Her relationships were none, as she drug countless men to her flat and by sunrise the next morning she was alone again. Shortly thereafter she met Arturo. Something about this young man's appeal stuck out to her. While the relations itself was just as routine like it was with the other lovers, the thrills escalated when the boundaries were pushed. Suicide fantasies erupted within Laura while she and Arturo were intimate.
Both Laura and Arturo sought attention, protection from the outside world, companionship, and affections. But when Laura opens herself up and lets Arturo view the skeletons she has in her closet, there relationship becomes bumpy. All of Laura's demons results from abuse and treatment received from her deceased father. With her father's death anniversary fast approaching, Leap year, Laura's fixation on death grows.
But Arturo can't push the boundaries any further. He won't give Laura what she wants, he leaves the game never to return. Laura falls into a depression, this being the second time in her life she was abandoned by someone she cared for, she forced to continue in the existence she has. Just when it all seemed to be dark days for Laura, her brother suddenly reappears. This giving her life that glimmer of hope that was once lost.
Leap Year is a 2010 comedy with a runtime of 1 hour and 34 minutes. It has received mostly positive reviews from critics and viewers, who have given it an IMDb score of 5.9 and a MetaScore of 71.