Anytime Yoga
Anytime Yoga is a health and fitness TV series that talks about different yoga techniques. It is basically designed to be like a yoga class but as a TV show format. However unlike a regular yoga class, the show takes time to talk about each technique and how it is beneficial to your workout routine. The moves range from amateur to advanced but it is focused on a more intermediate level. The show is really great for anyone who is curious about the activity but has never tried it because you can do it from the comfort of your own house.
1 Season,

6

Episodes

January 4, 2009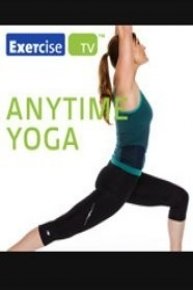 Anytime Yoga Full Episode Guide
Want to lose weight? Relax and get plenty of sleep. That's right. When you give your body a chance to relax and repair, you lower the production of stress hormones that can lead to weight gain, especially around your belly.

Wake up your mind and body with Meaghan's mini yoga flow. Get energized naturally, open up your entire body, and boost your spirits in 10 minutes flat. Meaghan's positive energy is contagious. What better way to jump start the day than with a revitalizing, all-over, feel good stretch!

Episode

4

-

Close Yoga for Abs

Power up all the muscles of your core, yoga-style, with this quick and effective blast to your midsection. Target-tone every angle of your torso: your abs, upper and lower back, and glutes with Tom's yoga-inspired core routine.

Jenna shows you an amazing stretching series to help your circulation, leg cramps and diabetes. Do this before you go to bed or after you workout. Using Jenna's core principles, you'll elongate your spine, open your muscles, and increase your flexibility.

Episode

2

-

Rhythmic Stretch

Refresh and rejuvenate with this detailed stretch sequence. You will feel younger and radiant after completing this workout.

Episode

1

-

Refresh and Renew

Yoga will tone your body, your breath and your mind. This is a 10 minute yoga workout that involves all of the elements of a vinyasa class. It will leave you feeling both energized and relaxed in only 10 minutes!