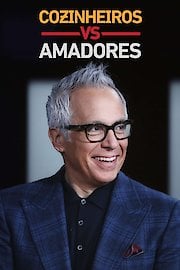 Watch Cooks vs. Cons
Cooks vs. Cons is a popular cooking competition show that aired on Food Network in 2016. The show is hosted by celebrity chef Geoffrey Zakarian and features judges Daphne Oz and Alex Guarnaschelli. The premise of the show revolves around a group of professional chefs competing against amateur cooks who are trying to pass themselves off as professionals. The judges are tasked with trying to distinguish between the two groups and awarding points based on taste, presentation, and overall execution.
In each episode, four contestants are introduced, two of whom are professional chefs and two of whom are amateurs. The contestants are then given a mystery basket of ingredients and must create a dish within a set amount of time. The judges taste the dishes and award points based on their impressions.
Throughout the competition, the contestants are given additional challenges and obstacles, such as using unusual ingredients or being forced to cook with limited resources. The judges continue to evaluate the dishes, and at the end of each challenge, the contestant with the least points is eliminated.
The final challenge of the show pits the remaining contestants against each other in a head-to-head battle. The judges are given blind tastings of the dishes and must choose a winner based solely on the taste and presentation of the food.
One of the most interesting aspects of Cooks vs. Cons is the opportunity for the amateurs to compete against experienced chefs. The show allows home cooks to showcase their skills and potentially win prizes and recognition for their culinary abilities.
Another unique aspect of the show is the unpredictability of the challenges. With mystery baskets and surprise twists thrown in, the contestants must think on their feet and adapt to the situation in order to succeed.
The judges on the show are also noteworthy, with all three bringing their own expertise and perspective to the competition. Geoffrey Zakarian is a celebrated chef and restaurateur, while Daphne Oz is a noted author and television personality. Alex Guarnaschelli is an acclaimed chef and judge on other Food Network shows, giving her a wealth of experience in evaluating dishes.
Overall, Cooks vs. Cons is an engaging and exciting cooking competition that offers something for both home cooks and seasoned professionals. With unexpected twists and turns and a talented group of judges, the show is a must-watch for any food lover.
Cooks vs. Cons is a series that is currently running and has 5 seasons (57 episodes). The series first aired on March 15, 2016.