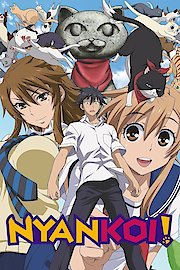 Watch Nyan Koi!
TV-PG
2010
1 Season
Nyan Koi! is a romantic comedy anime series that aired in 2009. The story revolves around a high school student named Junpei Kousaka, who has a strange curse that he accidentally brought upon himself. Junpei is allergic to cats, and one day he accidentally damages the local cat god statue. The cat god, Nyamsus, curses Junpei by turning him into a cat himself.
To break the curse, Junpei must do 100 good deeds for cats. When Junpei realizes he can now understand what cats say, he begins to learn about the secret lives of the felines that roam his town. Along the way, he meets and befriends several cat-loving individuals and felines, who help him in his quest to complete the 100 good deeds.
The series features a cast of lovable and quirky characters, including Kazumi, a childhood friend who has a crush on Junpei and also happens to be a cat fetishist; Kaede, a kind and gentle girl who runs the local family-owned cat store; and Nagi, a beautiful girl with a tough exterior who is secretly a cat lover.
Junpei's most interesting encounter, however, is with a cat named Nyamsus, the one who cursed him. Nyamsus, voiced by Atsuko Tanaka, is a bossy and demanding cat with a mission of her own. She serves as the series' main antagonist and is always trying to sabotage Junpei's efforts to complete the 100 good deeds.
The series is filled with hilarious hijinks and misunderstandings, as Junpei tries to fulfill his promise to Nyamsus while navigating his own relationships with the people in his life. His allergy to cats proves to be a constant source of problems and misadventures but also leads to some of the show's most heartwarming moments.
Nyan Koi! features beautiful animation and vibrant colors that bring the town and its feline residents to life. The music is also a highlight, featuring a catchy opening theme and cute background tracks that perfectly complement the show's light-hearted tone.
Fans of rom-coms and cat lovers alike will find plenty to enjoy in Nyan Koi!. The show is a comedic and charming take on the genre, with plenty of character development, lighthearted moments, and sweet romance.
In conclusion, Nyan Koi! is a delightful anime series that will leave viewers feeling warm and fuzzy inside. With its likable characters, funny situations, and cute cats, it's ideal for anyone looking for a lighthearted and enjoyable show to watch.
Nyan Koi! is a series that is currently running and has 1 seasons (12 episodes). The series first aired on December 8, 2010.