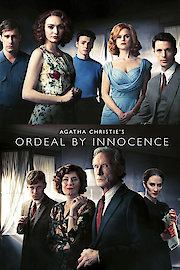 Watch Ordeal by Innocence
TV-MA
2018
1 Season
Ordeal by Innocence is a gripping murder mystery show that aired on Amazon in 2018. The show is an adaptation of Agatha Christie's novel of the same name, and follows the story of the Argyll family, who are rocked by the murder of their matriarch, Rachel Argyll. The show is set in the mid-1950s and is shot on location in and around London, England. The stunning English countryside serves as the perfect backdrop to the mysterious and haunting atmosphere of the show.
The cast of Ordeal by Innocence includes some of the industry's most talented actors. Bill Nighy stars as Leo Argyll, Rachel's husband, who becomes the prime suspect in her murder investigation. Nighy delivers an outstanding performance, portraying his character's complex emotions with sensitivity and depth.
Anna Chancellor plays Leo's second wife, and stepmother to the Argyll children, who is also struggling with her own demons. Anthony Boyle plays Jack Argyll, Leo's son, who was convicted of Rachel's murder and spent years in prison before being exonerated. Boyle delivers an emotional and powerful performance that drives the show's narrative.
Alice Eve plays Gwenda Vaughan, Jack's alibi and the new love interest of the Argyll family. Matthew Goode plays Philip Durant, the family's lawyer, who becomes embroiled in the murder investigation.
The show is not only a murder mystery but also a family drama, exploring the complex relationships and dynamics between the Argyll family members. Each character has their own secrets, motivations and twisted histories, which make them all potential suspects in Rachel's murder.
The show is directed by Sandra Goldbacher, who expertly captures the dark and eerie tones of the show. The camera work is exceptional, with sweeping shots of the countryside and close-up shots of the characters' faces that reveal their innermost emotions.
The music in Ordeal by Innocence also deserves special mention, with a haunting and melodic score that perfectly complements the show's tone.
Overall, Ordeal by Innocence is a must-watch for fans of murder mysteries and Agatha Christie's work. The show masterfully blends suspense, drama, and mystery to create a thrilling and engaging story. The performances by the cast are outstanding, and the beautiful scenery and setting add an extra layer of beauty to the story. The show is available on Amazon Prime, and it is not to be missed.
Ordeal by Innocence is a series that is currently running and has 1 seasons (3 episodes). The series first aired on April 1, 2018.