Watch Are You There, Chelsea?
Are You There, Chelsea? is an American television sitcom based on the book Are You There, Vodka? It's me, Chelsea. The sitcom is based on the characters created by American comedian and talk show host Chelsea Handler, who also stars in the sitcom as the character Chelsea's sister. The title of both the book and sitcom is based on the title of Judy Blume book Are You There God? It's Me, Margaret.
The book was written in 2008 and was a best seller in the U.S.; production of the sitcom added to NBC's production schedule from 2010 and eventually produced a pilot and first season in 2012. Are Yout There, Chelsea? is often called semi-autobiographical as it tells some stories base don the life of Chelsea Handler. During interviews and media appearances for the series Handler claimed she was originally to play the character if Chelsea but was told by NBC executives she was too old. The character of Chelsea is a coktail waitress played by Laura Prepon who found fame playing the character of Donna in the eight seasons of the sitcom That 70s Show.
A 12 episode first season was commissioned by NBC and produced by Warner Bros. Television. Writers Dottie Zicklin and Julie Ann Lawson, who have credits including Dharma and Greg, and The Drew carey Show eventually became lead writers on the show. various cast changes took place, including the late addition of Handler as Prepon's straight laced sister and a new mother. A mixture of poor ratings and a poor critical response led to Are You There, Chelsea? being cancelled in May 2012 after its season began its run in january of the same year. Other members of the cast of Are You There, Chelsea? included Lenny Clarke and Jake McDorman; the single season of the show has been broadcast across Europe and South America.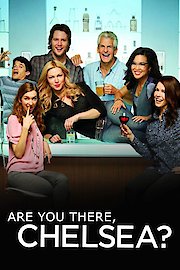 Are You There, Chelsea?

Full Episode Guide
Chelsea wants to host a surprise party for Sloane, but the girls end up getting sloppy.

Chelsea sees a pair of expensive boots in a store window and she has to have them, but isn't quite sure how she will pay for them.

When Sloane treats everyone to a fancy French restaurant to express her gratitude for their support during her pregnancy, Chelsea meets the gorgeous and talented chef Robert, who begins courting her with sumptuous meals.

At the sports bar, Rick talks Jerry into letting him be manager. Everyone is supportive but then things start to go down hill. Nikki and Dee Dee start a cleanse to get rid of negativity. Nikki, the one who suggested the cleanse, eats in secret, while Dee Dee sticks to the cleanse and is basically starving.

Episode 8 - Those Damn Yankees

Episode 7 - Dee Dee's Pillow

Episode 6 - How to Succeed in Business Without Re...

Episode 5 - The Gynecologist
Are You There, Chelsea? News