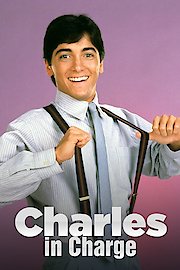 Watch Charles in Charge
TV-G
1984
5 Seasons
Charles in Charge is a classic sitcom from the 80s, starring Scott Baio as the titular character, Charles. The show aired from 1984 to 1990 and was syndicated across several networks during its run. Charles in Charge revolves around the titular character, a college student who takes a job as a live-in babysitter for the Pembroke family. Over the course of the show's six-year run, Charles becomes a beloved member of the Pembroke family, helping them to navigate the ups and downs of life.
The show's premise is fairly simple: Charles is a responsible and reliable college student who takes on odd jobs to help pay his way through school. When he responds to an ad for a babysitter, he meets the Pembroke family - the harried and overworked parents, Jill and Stan, and their three children: teenage daughter Lila, pre-teen son Douglas, and young daughter Jamie. Charles quickly becomes a valuable member of the household, helping with homework, cooking meals, and even dispensing sage advice when needed.
One of the strengths of Charles in Charge is its cast of likable and relatable characters. Scott Baio is charming and affable as Charles, painting him as a fun-loving guy who genuinely cares about the Pembroke family. Willie Aames, who plays Charles' friend Buddy, brings a welcome dose of humor to the show, while Julie Cobb, who portrays Jill Pembroke, is a standout as the harried but loving mother of the family.
Another notable aspect of Charles in Charge is its storytelling. While the show is episodic in nature, with each episode focusing on a particular problem or issue faced by the Pembroke family, there are also longer story arcs that play out over the course of multiple episodes. For example, the show explores the budding romance between Charles and Lila over the course of several episodes, a storyline that provides a nice counterbalance to the more lighthearted, comedic moments of the show.
Despite its many strengths, Charles in Charge did face some criticism during its run. Some viewers felt that the show was too formulaic, with each episode following a predictable pattern of problem-introduced-solution-found. Others found fault with the show's portrayal of women and girls, noting that the female characters often played second fiddle to the male characters.
Despite these criticisms, Charles in Charge remains a beloved sitcom of the 80s, one that continues to find new fans through syndication and streaming platforms. Its timeless message - of the importance of family, friendship, and responsibility - is one that still resonates with audiences today.
Charles in Charge is a series that is currently running and has 5 seasons (128 episodes). The series first aired on October 3, 1984.