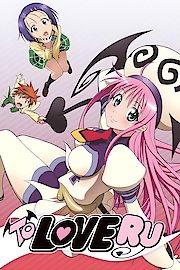 Watch To Love ru
TV-14
2008
1 Season
To Love Ru is an anime series that aired from 2008 to 2010. The show follows the life of a high school student named Rito Yuki, who has a crush on his classmate Haruna Sairenji. One day, while taking a bath, a naked girl named Lala Satalin Deviluke suddenly appears in his bathtub. It is revealed that Lala is an alien princess who has run away from home to avoid an arranged marriage.
From that moment on, Rito's life is turned upside down as he is pulled into Lala's crazy alien life. Along with Lala's younger sister Nana and her robot servant, Peke, Rito must navigate a world of intergalactic politics, dangerous enemies, and romantic hijinks.
To Love Ru is a romantic comedy with a heavy emphasis on ecchi and fan service. The show is known for its numerous bathing scenes, half-naked girls, and suggestive situations. However, despite its sexually charged content, the series also manages to be charming and funny.
One of the main themes of the show is love and relationships. Rito is torn between his feelings for Haruna and his growing affections for Lala. Meanwhile, other characters, such as Rito's sister Mikan and his friend Yui, also struggle with their own romantic feelings.
The show is animated by Xebec and features a bright, colorful art style. The character designs are distinct and memorable, with each character having their own unique look and personality. The voice acting is also top-notch, with notable performances from Akeno Watanabe as Lala, Haruka Tomatsu as Lala's younger sister Nana, and Sayuri Yahagi as Haruna.
To Love Ru is a fun and entertaining anime that is sure to leave viewers laughing and blushing. While it may not be for everyone due to its sexually suggestive content, fans of romantic comedies and ecchi anime will find plenty to enjoy.