Utano Princesama Revolutions
Uta no Prince-sama Revolutions, also known as Uta no Prince-sama - Maji Love Revolutions, is the third season of the anime adaption of otome game Uta no Prince-sama. Nanami Haruka, newcomer composer, has made her debut along with the 6 stunningly handsome members of Starfish. Together, they have advanced to Saotome Academy's master course and join Shining Agency. Together with their seniors from the same entertainment agency, they get dragged into the mysterious battle for best newcomer.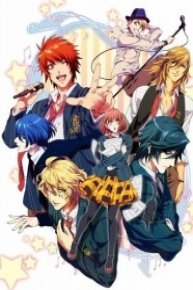 Utano Princesama Revolutions Full Episode Guide
Episode

13

-

Maji Love Revolutions

STARISH and QUARTET NIGHT battle it out at the Triple S entry showcase, but the end of the concert proves to be quite the spectacle indeed!

Episode

12

-

Evolution Eve

STARISH' revolution has triggered a revival in QUARTET NIGHT, and that catches Shining' attention! If STARISH enters the Triple S, Haruka may be torn between the two bands.

STARISH has attained great success but the Triple S auditions still seem unattainable. However, as the group reminisces, they realize something that may improve their chances.

QUARTET NIGHT is preparing for the Triple S opening artist screening concert, they head off on a trip with Haruka to create a "number one song that will make them shine."

Reiji is a Shining example of the perfect idol! He steals the show and brightens everything, but there may be more to him than what he reveals.

Episode

8

-

Original Resonance

It' Masato and Tokiya' turn for the Cross-Unit project, and they're under a lot of pressure. Haruka is once more composing, but the guys say they'll write the lyrics first.

While working on his new solo song, Ranmaru progressively dedicates more of himself to QUARTET NIGHT. However, those around Ranmaru think he might be getting overworked.

Episode

6

-

Saintly Territory

Haruka' next task is to compose a song for Camus to perform at the opening ceremony of Shining Tower. Can Haruka create music to inspire this chilly personality?

Cross-Unit Project phase two is underway! Cecil, Ren and Syo are tasked with producing a smart phone commercial, but they're having trouble compromising with each other.

Episode

4

-

Innocent Wind

Natsuki and Syo team up with Mikaze to film a movie. The two STARISH members are impressed by Mikaze' ability, but even such a perfect idol has his limits.

Episode

3

-

Emotional Life

The first Cross-Unit Project features a rock musical starring Otoya and Natsuki. Though enthusiastic, they're given roles that are difficult for them to grasp.

STARISH and NIGHT QUARTET head to a resort to film for a variety TV show, and STARISH realizes that they have a lot to learn about being idols.

Episode

1

-

The Dice Are Cast

The cherry blossoms bloom around Saotome Academy as Haruka Nanami explores the grounds and encounters the guys, unaware that they're all in for a revolutionary announcement.