Watch Jeep World of Adventure Sports
This fantastic sports show aired by NBC is one of the best of it's kind for dramatic, exhilarating sports feats ranging from sky diving, to deep sea diving, to everything in between. This high paced show gets your adrenaline flowing and gets the viewer excited about the sporting events that are being covered in each episode.
A truly high paced, mind blowing depictions from athletes and thrill seekers across the globe. This show takes us on a dramatic voyage through the world of high octane, energy driven, sometimes dangerous sports pursuits everywhere. Be sure to catch the latest episodes today.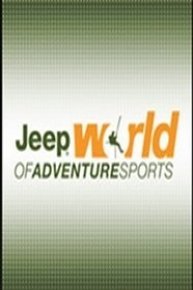 Jeep World of Adventure Sports

Full Episode Guide
The Jeep World of Adventure is back and this episode features an extreme triathlon, skydiving, and Olympic gold medallist Shaun White in the World Superpipe Snowboarding Championships. The Newton Triathlon is a challenge for individuals and teams alike as athletes see how much ground (and water) they can cover in 24 straight hours of competition. Next, check out the National Skydiving Championships as 1000 of the best aerial athletes put on a thrilling and visually stunning show. Then, we head to the snow for the World Superpipe Championships where Shaun White attempts to prove why he is America's snowboarding golden boy. Plus, the team from Teton Gravity Research takes us to Aspen to give us a behind the scenes tour of what goes into designing and building a World-Class Terrain Park.

"The latest action packed Jeep show features an attempt to break the land speed record, ice climbing, mountain biking, and skiing. First off, take a trip to Bonneville, Utah to see if Kimberly Kelly can set the land speed record on her Honda Goldwing. Then hop over the pond to Sweden to see ice climbing in abandoned gold and silver mines. Next, check out some mountain biking in Whistler, British Colombia and learn about the city's commitment to preserving the environment. Finally, the Teton Gravity Research Team straps on their skis and tackles some of the steepest first descents in North America. It's all on this episode episode of the Jeep World of Adventure."

Adventures featuring typhoon surfing, bouldering, and long distance endurance running. Our 4th show of 2007 kicks off with the Red Bull mission entitled Tai Fu. From July to September each year, Japan lives in fear of typhoons (Tai Fu) that are capable of taking lives and devastating coastlines. When a typhoon strikes, citizens are sent running for safety, but for big-wave veterans Ross Clarke-Jones, Ian Walsh, Carlos Burle and others, the chance to ride the waves of a massive typhoon is the only thing on their minds. Also, join us in Bishop, California with Lisa Rands, as she explores "high-ball bouldering" on the Buttermilk Boulders in the area. Lisa is the first woman to climb some of the scariest boulders in North America, without the protection of a rope. And finally, witness The Western States 100 - one of the oldest, ultra trail, endurance runs in the world. The one day, 100-mile race is an extreme mental and physical challenge for each runner as they traverse the terrain of the Squaw Valley floor and Emigrant Pass, attempting to reach the finish in Auburn, California. While beautiful, the trail is relentless in its challenges and unforgiving to the ill-prepared.
If You Like Jeep World of Adventure Sports, Then Try...