Watch The Lucy Show
The Lucy Show was the third sitcom for actress Lucille Ball. It was created as a successor, but not a sequel, to the earlier I Love Lucy show and The Lucy-Desi Comedy Hour. The show's premise is that of Lucy Carmichael, a widow (Lucille Ball) and her divorced best friend Vivian Bagley (Vivian Vance) sharing a home in New York with their respective children. Lucy has a daughter, and a son: Chris and Jerry. Vivian has one son from her previous marriage, Sherman. As the main character, the executives at CBS decided that Lucy would be a widow, as that was a more acceptable role for a single mother in that era.
There were some loose threads of continuity in the show, as Lucy went through several different jobs at first. Although the character was left a trust fund by her late husband, Lucy worked as a meter maid, hospital aide, and a restaurant owner. She also spends a lot of time trying to convince the guardian of her husband's trust, Mr. Mooney (Gale Gordon), to release some of her husband's money to fund various amusing schemes and ideas. Eventually, the Lucy character becomes his secretary, and she moves out to California with Jerry, as her daughter, Chris, is in college. Vivian Vance left the show around this point, and other actresses, including Ann Sothern, Carole Cook, and Kathleen Freeman.
Once the character of Lucy Carmichael moved to California, there were more opportunities for celebrities to guest star as themselves, making the show an ideal setting to spot favorite movie and television stars of the era, including John Wayne, Dean Martin, and even Joan Crawford. Ms. Crawford and Ms. Ball were involved in a very public feud at the time, and although there were some difficulties between the two, the episode was filmed with very smooth performances by both ladies.
The Lucy Show premiered on the CBS network on October 1st, 1962, and ran until March 11th, 1968. Like I Love Lucy, and The Lucy-Desi Comedy Hour it was produced by Desilu studios. The studio at that time, was still run by Ball's ex-husband, Desi Arnaz, and still owned by both of them.
1 Season,

28

Episodes - Canceled/Ended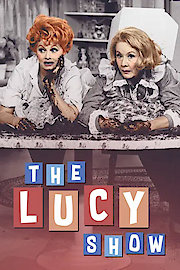 The Lucy Show

Full Episode Guide
Episode 28 - Lucy Meets Robert Goulet

When a handsome truck driver is turned down for a loan, she convinces him to enter a Robert Goulet look-a-like contest in order to win the needed cash.

Episode 27 - Little Old Lucy

Mr. Mooney orders Lucy to dress up as an elderly woman and escort the aging bank president to the annual banquet. The old man would rather chase Lucy around his living room.

Episode 26 - Lucy Gets Jack Benny's Account

Lucy tries to convince Jack Benny to take his money from his underground vault and deposit it in Mr. Mooney's bank. She plans to do so by designing even more elaborate precautions than Benny's own booby-trapped passages.

Episode 25 - Lucy, the Starmaker

A young man wants a career in the music industry, but his uncle insists he learn the banking business. Lucy arranges for an impromptu audition with a record producer in the bank's lobby.

Episode 24 - Lucy and the French Movie Star

Episode 23 - Lucy Gets Trapped

Episode 22 - Lucy Meets the Berles

Episode 21 - Lucy Meets Sheldon Leonard

Episode 20 - Lucy Meets Tennessee Ernie Ford

Episode 19 - Lucy, the Fight Manager

Episode 18 - Lucy Meets the Law

Episode 17 - Main Street USA

Episode 16 - Lucy, the Babysitter

Episode 15 - Viv Visits Lucy

Episode 14 - Lucy's Substitute Secretary

Episode 13 - Lucy and the Efficiency Expert

Episode 12 - Lucy and the Monkey

Episode 11 - Lucy and Pat Collins

Episode 10 - Lucy Meets John Wayne

Episode 9 - Lucy Gets Caught up in the Draft

Episode 8 - Lucy and Carol in Palm Springs

Episode 7 - Lucy Gets a Roommate

Episode 6 - Lucy Flies to London

Episode 5 - Lucy and the Ring-a-Ding Ring

Episode 4 - Lucy and Paul Winchell

Episode 3 - Lucy, the Bean Queen

Episode 2 - Lucy and the Submarine

Episode 1 - Lucy and George Burns
If You Like The Lucy Show, Then Try...