Beautiful Bones -Sakurako's Investigation-
This mystery anime television series is based on a Japanese novel series written by Shiori Ota and illustrated by Tetsuo. The series, adapted by Troyca, was created in Japanese anime style. It follows the adventures of Sakurako Kujo, a gorgeous if socially inept osteologist (scientist who studies bones), and her high school boy assistant, Sakurako Kujo. Together they solve mysteries that revolve around bones that they uncover. Unraveling these mysteries often takes them into the darker side of humanity where the duo are not afraid to break the rules to solve a case and bring closure to a situation.
Rich in Japanese culture, the series includes twelve episodes each with a different mystery to solve. Among others, story lines include solving a hundred year old murder that was thought to be a suicide, saving abused children, helping a girl solve her grandmother's death, helping a friend who thought he was cursed, and helping a woman deal with her husband's death. Regardless of each episode's unique setting and plot, the theme remains the same. Solving mysteries helps people find peace.
1 Season,

12

Episodes

October 7, 2015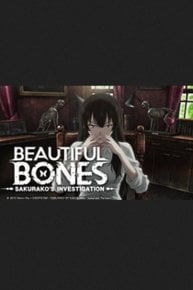 Beautiful Bones -Sakurako's Investigation- Full Episode Guide
Episode

12

-

Under Sakurako-san's Feet...

Having been told by Sakurako that he mustn't stay by her side anymore, Shoutarou reminisces about their first case, back when they'd initially met.

Episode

11

-

The Butterfly Vanished in November, P...

Minami, Futaba, and Hitoe had a secret hideout. Certain that Hitoe is there, Minami leads them to a house in the woods...

Episode

10

-

The Butterfly Vanished in November, P...

The year's final bone gathering expedition is cut short when Isozaki informs Sakurako and Shoutarou that one of his former students, Hitoe, has gone missing. In the past, Hitoe's friend, Futaba, had similarly gone missing on Isozaki's watch as their homeroom teacher...

Episode

9

-

Grandmother's Pudding

Before her death, Shotaro's grandmother would often ask him to bring her pudding. One rainy day, they find out why.

Episode

8

-

The Entrusted Bones, Part 2

Human bones were found among the specimens in the science room. However, there was no foul play involved. As Shoutarou investigates the circumstances behind their presence in the science room, he decides he needs to visit the former science teacher's sister, Koyuki...

With Sakurako unexpectedly showing up at his school festival, Shoutarou is in high spirits. After they're found by Isozaki in the science classroom, they're asked to help organize some materials left by Isozaki's predecessor. Sakurako's elated over the collection of bones, but Shoutarou learns that she once turned her own pet cat into a specimen...

While at a summer festival, Kougami is separated from her friends. She happens to catch sight of a woman standing on the bridge. Clad all in black, there is something off about her... As Kougami suspects imminent suicide, the woman vanishes, leaving an ominous letter and a diamond ring behind. Determined to prevent her death, Kougami asks Isozaki and Utsumi to help her find the woman...

The cause of Fujioka's ill health is found to be mold growing on the painting that had been placed in his study at the suggestion of a certain artist. As everyone sighs in relief, there is a sudden commotion in the yard...

Police Officer Utsumi asks Shoutarou for a favor. His friend, Fujioka, is afraid of a certain curse where all the men in his family die at an early age. Utsumi asks for Sakurako's help in persuading Fujioka that there is no such curse, but...

While on a bone-hunting expedition in the mountains, Sakurako and Shoutarou again find the skeletal remains of a human being. Later, Shoutarou finds out that the body belonged to Kougami's grandmother, whose death the police have written off as a suicide. In disbelief, Kougami asks Sakurako for help...

Shoutarou finds a little girl at a convenience store in the dead of night. Other than her nickname, Ii-chan, no one can figure out her real name and address. Finding a bloody handprint on her backpack, Shoutarou asks Sakurako for help. But their inquiries only lead them to a shocking realization...

Episode

1

-

Bone 1: Bone-Loving Princess