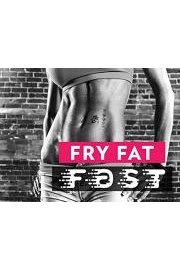 Watch Fry Fat Fast 5 Day Challenge
Fry Fat Fast 5 Day Challenge is a high intensity interval training program offered on SweatFlix platform. The show is designed to help people burn fat and lose weight in a short period of time through intense and efficient workouts. The program comprises five days of workout sessions, each with a unique routine that targets different muscle groups and intensities. The workouts range from cardio to strength training, and each session lasts for about thirty minutes, making it easy for people to incorporate into their daily routines.
The program is led by experienced trainers who guide participants through each workout session. They demonstrate the exercises, provide modifications for different fitness levels, and offer tips on proper form and techniques. The trainers also provide motivation and encouragement throughout the show, helping participants stay focused and committed to achieving their weight loss goals.
One of the unique features of Fry Fat Fast 5 Day Challenge is the use of high-intensity interval training (HIIT) techniques. HIIT is a popular exercise method that involves short bursts of intense physical activity followed by periods of rest or low-intensity movement. Research has shown that HIIT workouts can help people burn more calories and fat in a shorter period of time than traditional exercise methods.
The show also includes a nutrition plan to complement the workouts. The nutrition plan is designed to provide participants with healthy and balanced meals that support their weight loss goals. The plan includes meal ideas, recipes, and tips on healthy eating habits.
Overall, Fry Fat Fast 5 Day Challenge is an effective program for people looking to lose weight and get in shape in a short amount of time. The use of HIIT techniques, the guidance of experienced trainers, and the support of a nutrition plan make it an excellent choice for anyone looking to kickstart their weight loss journey.
Fry Fat Fast 5 Day Challenge is a series that is currently running and has 1 seasons (2 episodes). The series first aired on September 1, 2015.