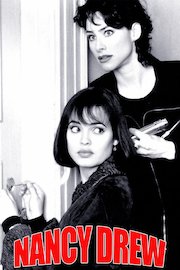 Watch Nancy Drew
1995
2 Seasons
Nancy Drew is a classic mystery television show that aired from 1977 to 1979. It starred Pamela Sue Martin as the titular character, Parker Stevenson as Nancy's boyfriend Ned Nickerson, and Shaun Cassidy as her friend Joe Hardy. The show was based on the popular Nancy Drew mystery book series written by Carolyn Keene.
The show follows Nancy, a high school student with a knack for solving mysteries. In each episode, Nancy becomes embroiled in a new mystery, ranging from thefts and fraud to kidnappings and murder. Along with Ned and Joe, Nancy uses her intelligence, resourcefulness, and courage to unravel each case and bring the perpetrator to justice.
One of the key strengths of the show is its cast. Pamela Sue Martin brings a charisma and intelligence to the role of Nancy that make her a compelling heroine. Parker Stevenson and Shaun Cassidy are also excellent as Ned and Joe, providing support and humor alongside Nancy's investigations. The chemistry between the three actors is a highlight of the show and helps to make the mysteries feel more engaging.
The show's writing is also strong, balancing suspenseful plotting with character development and humor. Each episode follows a formulaic structure, with Nancy stumbling upon a new mystery, gathering clues, and confronting the culprit in a climactic scene. However, the writers are able to keep the format fresh by varying the types of mysteries Nancy investigates and adding in subplots and recurring characters.
In addition to the main cast, the show features several recurring guest stars who add variety and excitement to the series. Edith Atwater plays Aunt Eloise, Nancy's wealthy and eccentric aunt who frequently gets involved in Nancy's cases. Jack Kelly plays Carson Drew, Nancy's father and a prominent lawyer who occasionally helps with her investigations. Lisa Eilbacher plays Callie Shaw, one of Nancy's best friends who sometimes helps out with the cases. Other notable guest stars include Janet Julian, Ruth Cox, and Susan Buckner.
One of the most memorable aspects of the show is its theme song, which is sung by the cast members themselves. The catchy tune is accompanied by bright, colorful visuals that capture the youthful energy and sense of adventure that defines the show.
Overall, Nancy Drew is a highly entertaining and engaging mystery series. Its strong cast, smart writing, and memorable theme song make it a classic of its genre, and its enduring popularity is a testament to its enduring appeal. Whether you're a longtime fan or a newcomer to the series, Nancy Drew is sure to provide plenty of thrills, laughs, and surprises.
Nancy Drew is a series that is currently running and has 2 seasons (31 episodes). The series first aired on September 23, 1995.